Retro piracy - Should the Royal Navy kick arse?
Tackling the freebooters of the 'Gate of Tears'
Ms Purves tells us that the Ministry of Defence has "finally" agreed to deploy HMS Northumberland, a Type 23 frigate, to Somali waters "after years of pathetic indecision". But that doesn't satisfy her and her unnamed source:
The Royal Navy that once cleared the seas of pirates (and before that, of slave ships) has until this meagre deployment been made powerless ... the Royal Navy has been cut savagely in recent years anyway, and is currently crippled by supplying half the manpower and airpower for landlocked Afghanistan ... For all the ignorant sea-blindness of this island nation, the cold fact is that without sea trade we would have little food, fuel, or goods ... Our force of destroyers and frigates has - in ten years - shrunk from 35 to 22 despite promises that it would not slip below 25. The number of smaller vessels, minehunters, decreases annually (they could be handy in this work) ... air cover is crippled, with one lot of planes gone and the next not ready.
There are some grains of truth there - it's a fact that the Royal Navy far more than any other organisation in the world was responsible for wiping out the seaborne slave trade in the 19th century, for instance. It's also a fact that the number of destroyers and frigates has fallen as described.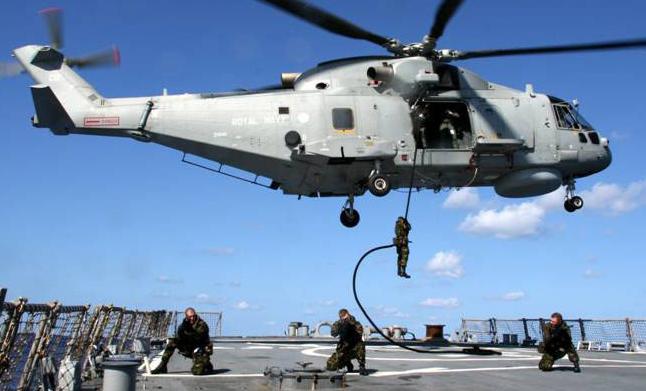 This gets you there a lot quicker
It's true too that HMS Northumberland is now off the Horn of Africa, and patrolling against the Somali pirates is part of her mission. Actually, though, she was sent on that task two months ago - well before the current media rumpus. The RN has been routinely taking part in the CTF 150 international security taskforce in those waters ever since 9/11, in fact. The ship's website makes much of its armed boarding team, all set to pile aboard a suspect vessel - and in the event of any resistance from scurvy buccaneers "armed with automatic weapons", more than ready to "return fire and take down the aggressors".
Also in the area is HMS Cumberland, another frigate, patrolling as part of a NATO taskforce. Again, Cumberland's presence was planned months ago. The Marines who dealt with the buccaneer dhow crew so briskly on Tuesday were based aboard the Cumberland, in fact.
As Ms Purves and her unnamed puppeteer suggest, Blighty can't spare any more frigates for this sort of work. But one thing the Royal Navy is never ever short of is admirals - so we've decided to send one of those instead. According to MoD spokesmen:
UK Defence Ministers have recently offered to provide the EU with a British Rear Admiral and an Operational Headquarters to lead a European mission to counter piracy.
Presumably someone else will provide the actual ships. (Good luck with that - other European countries mostly make our navy look massive. The only exception is the French, and they have plenty of admirals of their own.)