Intel shocks with profit warning
Ask not for whom the bellwether tolls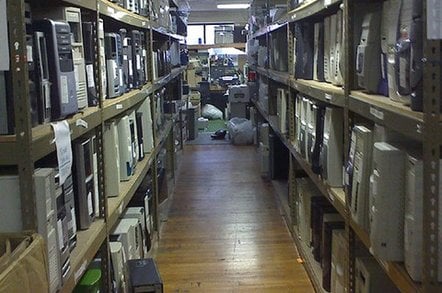 A month ago Intel CEO Paul Otellini didn't know "what impact the financial crisis will have on end customer demand". He does now and it's not good. Intel has cut fourth quarter revenue guidance by ten per cent, citing weakening global demand and PC supply chain inventory reduction.
Instead of earning $10.1bn - $10.9bn in its calendar Q4, Intel now expects revenues to be $8.7bn - $9.3bn. Demand for chips is weaker in all geographies; and PC makers, seeing lower demand now and in the short-term, are cutting component stocks. The number of Intel chips in the supply chain is falling.
These chips are used for netbooks, PCs, servers, and storage array controllers. Intel sees fewer of these items being built, with PCs, where the bulk of its chips go, singled out. This has implications for every supplier in the IT industry whose revenues depend on new hardware sales.
Yesterday analysts forecast lower demand for notebook computers. Asus, the big Taiwanese PC maker, was involved in this, suggesting that netbook demand will be curtailed as well.
Intel's third quarter results were record-breaking, with revenues of $10.2bn (Q3 '07 $10.1bn), but they didn't include October when, we now know, consumer demand for PCs and business demand for PCs and servers fell off a cliff.
At the consumer-facing end of the supply chain Circuit City in the USA has entered Chapter 11, thanks to falling sales and suppliers wanting payment when goods are shipped. This squeezed credit-stretched Circuit City's working capital. Best Buy, America's most successful electronics retailer, has reduced earnings expectations, citing demand slumping from mid-September onwards.
In the UK and Europe Dixons Stores Group (DSG) is also facing de-stocking after Atradius, a trade credit insurance firm, reduced cover. That means the risk DSG that might not pay suppliers such as Samsung is considered greater. Accordingly suppliers will cut the amount of stock DSG can hold before paying for it, or insist on cash payments up front. A Dixons subsidiary in Sweden, El-giganten, has already started doing this.
With this news from large players at the front and back of major IT supply chains we can be even more sure of a bleak mid-winter. Expect the profit warnings to soar in coming weeks.
Ask not for whom the IT industry bellwether tolls; it tolls for thee. ®