Geek gets Blackberry Storm tattoo
For the love of...
We love our tech here at Register Hardware, but we'd never get the vulture tattooed onto our forearms. However, one phone fanatic was so desperate to bag himself a free BlackBerry Storm that he had the handset etched onto his body.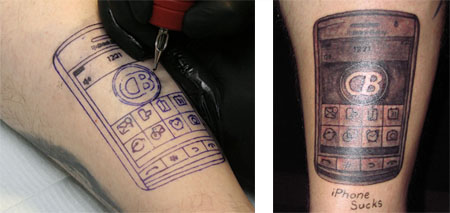 The man won a free Storm for his efforts
A man dubbed 'T.J', from Ohio, opted to have a life-size copy of the Storm tattooed on his forearm in order to win a free Storm in a contest entitled "What Would You Do for a BlackBerry Storm?"
The guy also chose to have the words "iPhone sucks" inked in below the Storm. We just wonder what he'll think of the tattoo once Storm's been consigned to the great phone bin in the sky and replaced with a faster, sexier and more feature-laden model.
Don't forget to check out Register Hardware's first look at the BlackBerry Storm.