Hauppauge myTV Pocket Freeview PMP
Media player with built-in digital telly tuner
Sound quality through a good pair of headphones isn't quite up to the standard of the best MP3 players but with the aid of the graphic equalizer and sound tweaking pre-sets we always found it possible to come up something we could live with.
Next to the 'phones jack is a TV output port and for this Hauppauge does supply composite-video cables. You also get a robust nylon carry case.
The manufacturer-quoted battery run-times are four hours of TV, six of video and eight of music playback. These proved not far of the mark - we got 3h 50m of TV before the lights went out, and 5h 40m of video. Good rather than impressive, we'd say.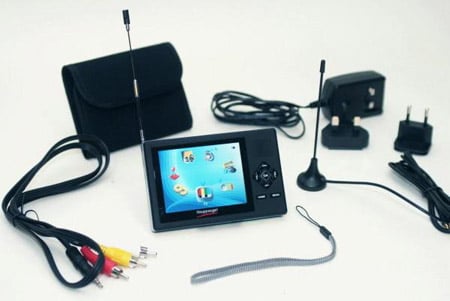 Antenna, video cable and carry case supplied - but not earphones
But it's price not battery life or functionality that's Hauppauge's trump card. Hunt around and you can find the myTV Player for just £130 mark, down from an RRP of around £150. That is pretty good value in our book.
Verdict
Assuming you live in an area with decent Freeview reception watching TV on the Hauppauge is a pleasant experience. Either off air or from a memory card video and audio playback are more than acceptable while the external speakers are particularly fine for a device of this size. A higher resolution screen and more comprehensive file support would been nice but as it is first and foremost and mini telly rather than a fully blown media player we can't beat it over the head too ferociously on that front.

Hauppauge myTV Pocket Freeview PMP
A good pocket telly and decent enough PMP rolled into one easy to use, sub-£150 package. Can't say fairer than that.