Our biggest grievance with Storm is that it doesn't support Wi-Fi. We couldn't pick-up a 3G signal during our entire central London tour bus trial and so web pages were taking anywhere between ten and 60 seconds to load completely over Edge.
Vodafone told us though that there are plans to bring Wi-Fi to the Storm, but a timescale for the roll-out hasn't been confirmed.
If you're an iPhone user, then the Storm's web page navigation will disappoint you because dedicated zoom in and zoom out icons are used instead of the iPhone's pinch and tap system. The iPhone approach undoubtedly makes for more fluid browsing.
Storm did excel in the photography stakes though, with the camera and accompanying LED flash – found round the back of the phone – able to snap crisp and clear images even in the low-light conditions of a tour bus with covered windows. The 2x digital zoom wasn't bad either.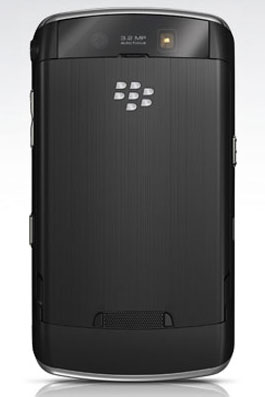 Decent photography from the 3.2Mp camera
You can save snaps to either the phone's 1GB internal memory or to Micro SD cards of up to 16GB, although you'll have to take the battery cover off each time you want access to the card. Fortunately, cards are hot-swappable - the Micro SD bay is below, but not underneath, the battery.
The 480 x 360 screen displayed a Quantum of Solace video trailer flawlessly and we saw every scratch that Bond made on the Aston Martin. Sound quality from the built-in speaker is reasonable, but earphones are better. That said, the socket's 3.5mm headphone jack is situated on side of the device, so it's not best placed for quick removal from pockets when you're listening to music on the move.
That said since most BlackBerry users we see never appear to put their devices away, perhaps this won't bother them.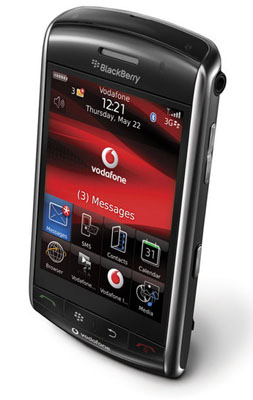 The side-mounted 3.5mm headphone jack could become annoying
Storm has many more solid features under its bouncy screen, including support for non-DRM'd tracks downloaded from the iTunes store or just copied over from Apple's jukebox app. A wide selection of instant messaging apps have been pre-installed, along with an iPhone-style applications shop.
Downloading works but, again, with no Wi-Fi on the handset, grabbing lots of them may use up your monthly data limit - or take a while if you're not in an HSDPA zone.
Verdict
Storm sports a great build quality, a solid range of features and has the potential to seriously shake the foundations of both the iPhone and the G1. The BlackBerry has its flaws - the lack of Wi-Fi, in particular - but then what phone doesn't?
If you're looking for a feature rich and sexy phone then Storm's likely to be the first BlackBerry that doesn't just appeal to suited professionals with a penchant for 24x7 email viewing.
Watch out for Register Hardware's full BlackBerry Storm review - coming soon.
Smartphone Reviews
Palm Treo Pro
Sony Ericsson Xperia X1
Samsung Omnia
HTC Touch Pro
T-Mobile G1
Asus M930
Apple iPhone 3G
Sponsored: How to simplify data protection on Amazon Web Services