Yes! It's the Darth Vader breakfast toaster
I jam your father, Luke
We've no idea what Darth Vader eats* for breakfast, but even those strong with the Sith need a good start to the day if they're to defeat the Jedi and overthrow the Republic. So, thankfully, a Star Wars toaster's been invented.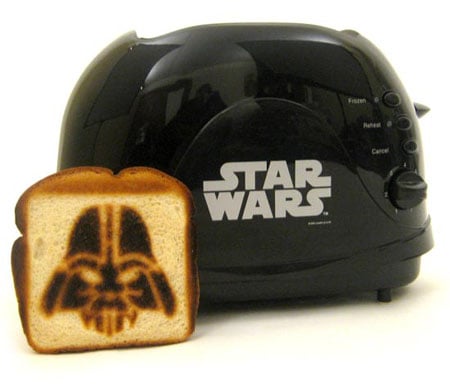 "No, I am your breakfast..."
Although the TIE toaster isn't as technically advanced as Electrolux's Scan Toaster, it will toast a perfect image of the Dark Lord onto each slice of bread you pop into the machine's single slot.
The glossy black toaster, which also bears the Star Wars logo on its side, has variable settings, including toast from frozen and reheat. You can also decide how well done you want the bread, which presumably affects the Dark Lord's darkness.
So if you want the Force (Flakes) to be with you each and every morning, the Darth Vader toaster is available to pre-order online now for $55 (£25/€34).
*Bootnote
We're not sure we've ever seen Darth's diet, but we do recall a panel in Marvel Comics' 1970s adaption which clearly shows the Dark Lord applying his terrifying telekinetic power and levitating a steaming cup of coffee toward his waiting hand.