Zoombak Universal portable A-GPS locator
You need never lose anything ever again
We tried using the Zoombak in various modes, including walking around with it in a pocket and putting it in the glove compartment of a car. We also activated the continuous tracking mode before going on a bike ride. The simplest way to find Zoombak's location is to sit in front of your PC and click the Find Now button.
Once the locator has been found, you can view the results on a map, which gives the location as a blue pin. Move your mouse over the pin and you can read the location. Zoombak also uses Microsoft Virtual Earth, allowing you to view Zoombak's location as a photographic image for a bird's eye view. There's also a historical tracking mode which lets you see where a locator has been taken.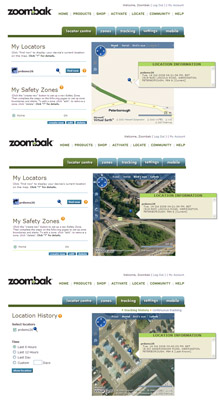 The tracking can be monitored on the Zoombak website
When the locator was being used out in the open, it didn't take too long to locate it, but when it was indoors, finding it was much slower or not possible at all. When this happens, Zoombak asks you to ensure that the locator is in clear view of the sky, which could be a bit of a problem if it's on the other side of the country...
That said, the zone alert system worked very well. In this mode, Zoombak automatically updates the location position every 15 minutes, and can send you a text or email warning whenever the device enters or leaves the zone. However, depending on where the locator is in the update cycle, this warning can arrive anywhere between two and 13 minutes after Zoombak has entered or left the zone. In our case, the alerts generally arrived within three minutes.
Verdict
Zoombak is compact, easy to set-up and simple to use. The web-based service means you can access the locator anywhere there's an internet connection – and you can also use your mobile. Like all GPS systems, it has its limitations, but we think it works fairly well for most general tracking applications. The question is, do you think it's worth paying £10 a month in addition to the up-front £100 price tag for the privilege of keeping tabs on things. If you do, we think you'll be pretty satisfied with the system.
Sponsored: Webcast: Why you need managed detection and response

Zoombak Universal portable A-GPS locator
It's not quite a James Bond tracking device, but Zoombak offers a simple way of keeping tabs on objects, pets or persons.
Price:
£100 plus a £10 monthly subscription RRP