OpenOffice 3.0 - the only option for masochistic Linux users
And linear optimizing Mactards
How Much is .6 Better Than Version 2.4?
One of the gripes about OpenOffice is that it doesn't feel as crisp as Microsoft Office. The interface and the icons were likely designed by somebody who writes code for a living, not somebody who designs interfaces and icons for a living. 3.0 is a step in the right direction here, with much more inviting icons. For example, the slide type menu in Impress 2.4:

OpenOffice Impress icons (version 2.4)
vs. 3.0:

OpenOffice Impress icons (version 3.0)
Though the UI isn't yet perfect, you'll find small improvements like this littered about OpenOffice 3.0. However, there was one area that will cause a bit of confusion if you're used to the way things ought to be. Version 3.0's Save menu makes file system navigation tedious: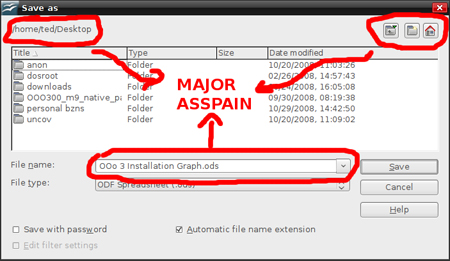 OpenOffice Save menu (with commentary)
I'm glad that OpenOffice decided to dump GNOME's default save-as menu for their own harder-to-use menu. I was getting bored of being able to intuitively save files wherever I wanted.
Sponsored: Minds Mastering Machines - Call for papers now open