Fujitsu intros satnav notebook and touch-sensitive netbook
Fujitsu has launched a laptop with an integrated touch-sensitive panel and unveiled of a miniature notebook-cum-satnav.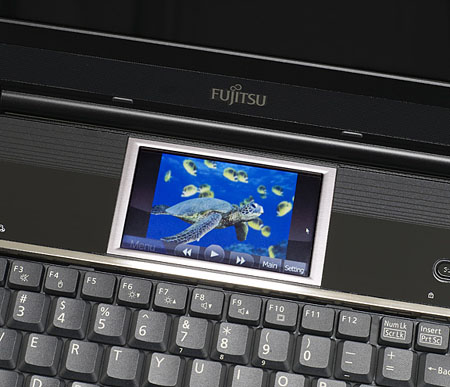 Fujitsu's N7010: touch-sensitive 4in sub-display on board
The N7010 sits in the firm's LifeBook series and is said to be the industry's first full-size notebook that incorporates a 4in "Touch Zone" display, which is designed to enable users to multitask without cluttering up the main, 16in display. For example, the Touch Zone can be used as an application launcher, a CD/DVD controller or as a photo slideshow display.
Another bonus is that the machine's touchpad includes Fujitsu's gesture control feature, which lets you zoom in and out by moving two fingers closer or further apart. It also lets you perform a continuous scroll by moving your finger in a clockwise circular motion to scroll down, or counter-clockwise to scroll up.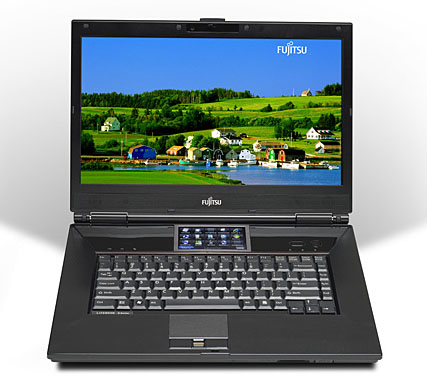 Would you trade your desktop in for this?
Powering the twin screens and numerous applications is a 2.26GHz Intel Core 2 Duo P8400 processor, with 3MB L2 cache and a 1066GHz frontside bus. The machine also has AMD ATI Radeon HD 3470 graphics, with 256MB of dedicated memory.
Fujitsu has designed the N7010 as a desktop replacement, so it comes with all the bells and whistles that range from an integrated Blu-ray player and SD memory card slot, to an integrated eSATA port and 1.3-megapixel webcam. Wi-Fi is built in too.
If portability and size are your core requirements though, the LifeBook U820 will be more up your alley because it has a 5.6in display and weighs in at just 590g.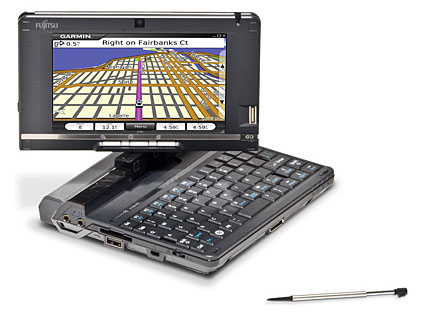 Fujitsu's U820 satnav notebook
An integrated GPS receiver and pre-installed Garmin Mobile PC software will let you plot your route across various continents according to points of interest or turn-by-turn navigation.
Under the U820's miniature hood is an Intel Centrino Atom Z-series processor and the option of either a 120GB HDD or 64GB SSD. Users can choose between a two- and three-cell battery, which will provide roughly 3.5 or 7.5 hours of runtime, respectively.
A fingerprint reader and 1.3-megapixel webcam are both built into the machine's horizontally rotatable display. Bluetooth and 802.11a/b/g Wi-Fi are also on board.
Both machines are available now, with the N7010 starting at $1500 (£940/€1163) and the U820 at $1050 (£657/€814).