Fisker prevails in Tesla tech theft claim fight
CEO didn't steal electric car firm's technology, arbitrator rules
'Leccy Tech It may lack the romance of Jarndyce vs Jarndyce, but it seems that first blood in the nasty little California 'leccy car legal spat has gone to Fisker.
Back in April, Tesla sued Fisker CEO Henrik Fisker alleging he had nicked Tesla technology and incorporated it into the forthcoming $80,000 Fisker Karma four-door hybrid über-saloon.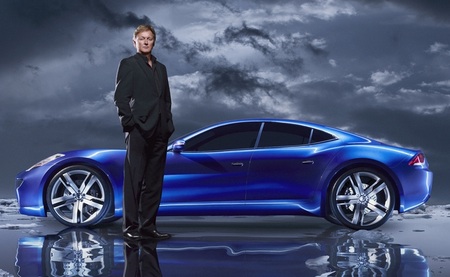 Henrik Fisker and the Fisker Karma
Fisker may well have been in a position to do so as he did some early design and interior work on the Tesla S, the four-door saloon car that may or may not look like this and may or may not hit the tarmac in 2010 or 11.
Both sides agreed to go to arbitration, and yesterday said the mediator had found that Fisker had done nothing wrong, saying that the evidence that Fisker was innocent was "overwhelming". Tesla's assertion of violations of the Uniform Trade Secrets Act by Fisker were "baseless and neither brought nor pursued in good faith".
Tesla naturally doesn't see things that way. Marketing chief Darryl Siry was quoted as saying: "We disagree with the ruling, and we're focused on producing and shipping cars to our customers."
It would be churlish to suggest that Tesla's annoyance is down to the fact that Fisker is saying it will have the Karma on the roads in a year's time, a good six, and possibly 12 months ahead of the Tesla S. Back in September, Fisker successfully raised $65m in further funding.
Fisker has taken a slightly different technical route to Tesla, the Karma not being a pure-breed plug-ino electric. Instead, Fisker uses what it calls the Q-Drive, a system whereby a "small" - but still good for 250bhp - four-cylinder petrol engine turns a generator which is used to charge a lithium-ion battery pack that then drives the wheels.
Q-Drive is the brainchild of Quantum Technologies, the company behind the drivetrain of the Chevrolet Volt.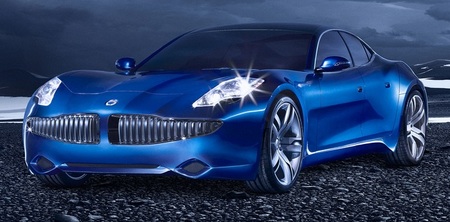 'Stealth' mode included
The Karma will have two driving modes: Stealth, in which the car is powered by the battery charge, and Sport, which uses "the full power of the vehicle" - presumably battery power and juice direct from the generator that's then being driven by the petrol engine. Fisker is on record as saying that when going full chat, the Karma sounds like a "combination of a jet fighter and an F1 car". That we want to hear.
Fisker also claims a full charge is good for 50 miles of battery powered motoring, and as its research suggests that 60 per cent of European and American commutes are shorter than that, most Karma trips should be powered by a domestic charge rather than by the four pot.
In Stealth mode, the Karma will be limited to a top speed of 95mph, but in Sport it will be good for 125 while the 0-60 time is stated as six seconds. By combining a fully charged battery and a full tank of gas, drivers should be able to get around 100mpg and a range of 620 miles.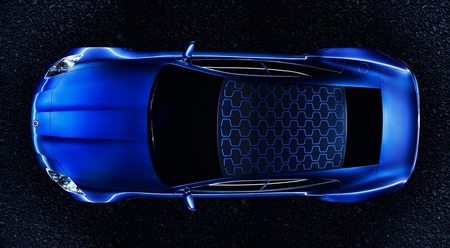 Solar panel on board
It will also come with a solar panel roof that will help charge the battery pack and keep the cabin cool when parked under that blistering California sun.
Currently, Fisker says it has firm orders for 500 cars and expects production to hit 15,000 units a year.
Fisker Karma Photo Gallery