Alienware unveils multi AMD GPU laptop
The latest Alienware gaming laptop has crash landed onto Earth with a promise that it'll "push gaming performance limits through state-of-the-art technology".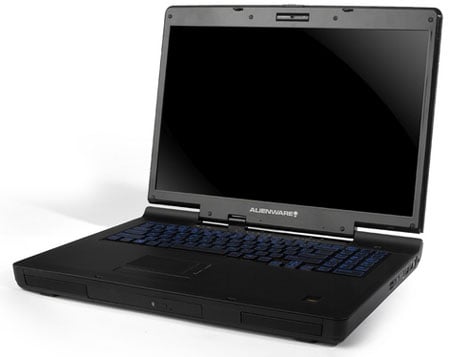 Alienware's M17
The Area-51 M17 is Alienware's first notebook to incrporate ATI's CrossFireX multi-GPU technology, and the machine can be specced up with a pair of AMD ATI Mobility Radeon HD 3870 graphics chips to give frame rates that are up to 80 per cent higher than those achievable with a single GPU.
The M17 is equipped with the Intel Core 2 Extreme QX9300 processor - the chip giant's first four-core mobile CPU - and has Intel's PM45 chipset on board. Up to 4GB of DDR 3 memory is also available.
The machine has a 17in, 1920 x 1200 display and storage won't be a problem because you can equip it with up to two 5400rpm, RAID 0-linked, 500GB HDDs. Either a multi-firmat DVD writer or a Blu-ray reader can be put into the shell.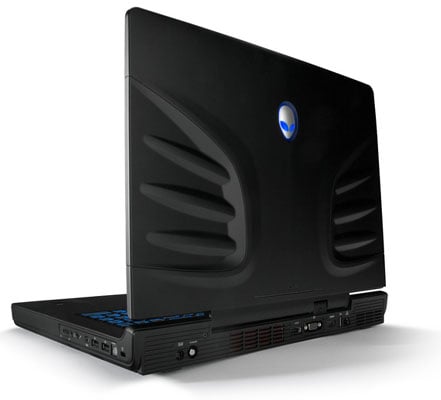 Dual 500GB HDDs and twin AMD ATI Mobility Radeon HD 3870 GPUs
It also comes with a seven-in-one media card reader and is set-up for 802.11n Wi-Fi and Bluetooth 2.1 connections.
Design-wise, the M17's body is cast in a "soft-touch, matte black finish" to protect the machine from scratches and fingerprints. The classic Alienware logo's also on the lid so nearby gamers will know what you're playing on.
Alienware's M17 is available now in the UK, with prices starting at £1000 ($1584/€1242).
Alienware Area-51 m-15x gaming laptop review