Sapphire twinkles over Radeon HD 4850 X2 exclusive
Two GPUs, only one board supplier
Sapphire has launched what it claims its the only graphics card you can get that features AMD's ATI Radeon HD 4850 X2 twin-GPU set-up.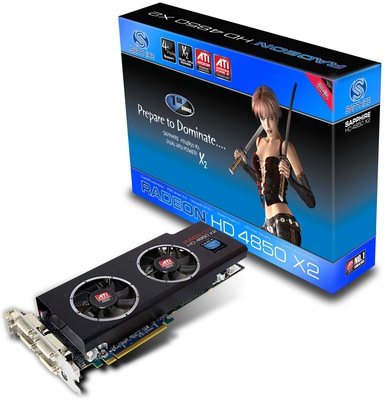 Sapphire's HD 4850 X2: two GPUs, one supplier
The Sapphire HD 4850 X2's two 4850 chips each connect to its own 1GB of GDDR 3 memory over a 256-bit bus. Both GPUs co-operate using AMD's CrossFire technology, and if you've the right kind of motherboard, you can put two of these boys together for some four-way GPU-on-GPU action.
The two-slot card has a pair of fans to keep the GPUs cool, plus TV-out and four dual-link DVI ports.
Sapphire's pricing the HD 4850 X2 at $419 - around £317 over here - and it'll go on sale any day now.
Graphics Card Reviews
Sapphire HD 4850 Toxic
AMD Fusion for Gaming
AMD ATI Radeon HD 4850 and 4870