3M MPro110 handheld projector
Palm-sized and ready for business
The cause of this ongoing condition is almost certainly the 18-pin connector (with 36 contacts) used for the VGA interfacing. With the MPro110's VGA connector, you have a thick VGA cable with the usual 15-pin D-type at the other end, plus a heavy ferrite bead clamped on the cable just a couple of inches away from this 18-pin pain in the interface. The weight of all this is too much of a strain on the unit's VGA socket and the connection is both loose and intermittent as a result.
The first unit sent was nigh on impossible to use, because the cable had to be held in some impossible position to get a picture. The second unit involved a similar palaver but, with the aid of a tripod and a few books to support the cable, once a picture had been established it would remain, so long as you didn't touch it. Focusing had to be done first using the default 3M image.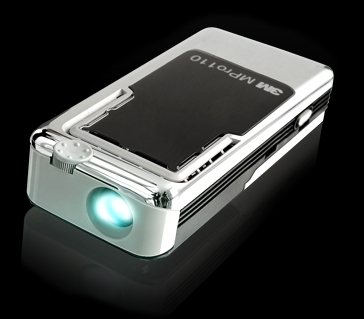 Shiny, shiny
And so, after hours of sporadic testing, lying down and staring into space was a welcome reward. There Will Be Blood seemed a fitting choice, turning a bedroom into an instant cinema by projecting this onto the ceiling from the VGA port. However, the somewhat muted colours soon revealed the projector's discolouration of the light grey skies, giving a tobacco-stained vignette to the picture, borne out later by tests with a pure white image.
It's probably fair to say there are just three types of product: the good, the bad and the frustrating, the latter being a good idea done badly. While the potential is there, the MPro110 just feels like work in progress. One competitor, the Aiptek PocketCinema V10, features internal memory, an SD card slot and movie playback, and seems to deliver on the portable promise. With the 3M MPro110, shortcomings aside, for all the applications its promo video portrays, it's astounding that some form of storage option wasn't considered.
Verdict
When the shortcomings are taken into account, it seems likely that the MPro 110 should be superseded fairly quickly because, beyond composite-video presentations, its 'Pro' pretensions fail to shine.

3M MPro110 handheld projector
An appealing concept severely let down by a troublesome interface choice, 3M has shown a lack of vision in its rush to market.