Storage, recession and you
Shadows on growth as lay-offs hit the storage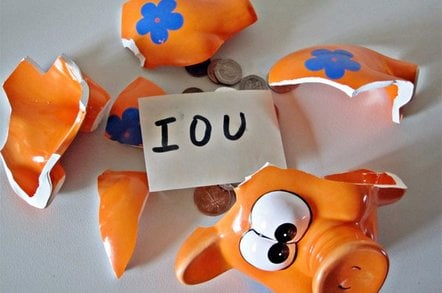 The recession is already knocking on the storage industry's door. A dozen storage vendors' results and forecasts show some already announcing losses and cost-cutting while others are waiting for the hammer to fall.
The tape automation business is already affected and drive arrays and data protection software are preparing for the worst with layoffs announced or coming. The finance market has been devastated by toxic sub-prime mortgages, a huge restriction in credit and financial institutions collapsing or merging. Consumers are showing marked reluctance to buy big-ticket items as well as more affordable personal products with embedded storage. The world is entering a recession.
A consumer purchase slowdown will hit the storage market just like every other part of the economy. Sectors that may have a sunny outlook though are the health market - sickness and injury rates don't fall in a recession - and storage for products that enhance the stay-at-home music and film experience as consumers go out less. The public sector may also take several months before it gets its budgets cut.
In a market that is going to be characterised by business reluctance to spend, storage vendors have to show rock solild cost-savings from purchase of their equipment. Giving customers a competitive advantage or increasing business agility won't cut it. Cash is going to be king and businesses should be expected to generally only buy storage products or services if they can save money by throwing existing kit out, avoiding future purchases (cost containment) or firing staff as a result.
De-duplication
Deduplication vendors appear to be going like a train although growth slowdowns are visible.
Data Domain beat analyst expectations and is continuing to be the de-dupe market leader. It reported third quarter 2008 (Q3 08) revenues of $75m, up a cheering 134 per cent from Q3 07's $32m. GAAP Net income was $3.2m ($0.05/share) compared to the year-ago quarter's net loss of $0.9m (-$0.02/share). The company added 355 new customers in the quarter.
Its outlook is for Q4 08 revenues of $80m - $84m and earnings per share of $0.01 -$0.03 which would contrast with Q4 07 revenues of $44.9m and nil earnings per share. That would represent slowing though still spectacular year-on-year growth of 78 - 87 per cent, but much less sequentially - 6.6 - 12 per cent - showing a response to current economic conditions.
Venture capital-backed startup ExaGrid put out bullish end of quarter information. Third quarter sales for the company were up 25 per cent compared to the previous quarter, and up 129 per cent versus the same quarter last year. It claims to have more than 1,000 systems installed with more than 250 customers, 54 having been added in the quarter. It provided no outlook, though.
A concern is that one of its three VC backers is Lehman Brothers, now no more, which led a $20 million funding round in January. This was expected to enable ExaGrid growth to cash-positive status. ExaGrid was then targeting a 30 per cent or higher quarter-over-quarter sales growth rate going forward. The third quarter's 25 per cent undershoots that and we can't expect the sequential growth rate to stay that high. Belt-tightening is bound to come.
Sepaton, another venture capital-funded start-up, buoyed by its HP OEM relationship and reseller deals, also had a great quarter with sales up 26 per cent compared to the previous quarter. It now has more than 1,000 customers, four times more than ExaGrid. There was a multi-million dollar public sector deal in the quarter too, to make some sales rep's day.
Mike Worhach, president and CEO, said: "We recognize that while the outlook for capital expenditures will be constrained given the stark economic realities around the globe, the one bright spot is cost-containment technologies [like de-dupe]."
That bright spot wasn't bright enough to rescue Quantum, which has a de-dupe line alongside its tape automation products, from the business doldrums though, as we will see in just a second.
Tape automation and backup software
Quantum reported lower revenues year-on-year but a dramatic reduction of its net loss. Revenues for its Q2 fy09 were $215m, 13 per cent down on the year-ago quarter's $249m. There was a net loss of $3m ($0.01/share) which was an 85 per cent improvement of Q2 fy08's net loss of $20m ($0.10/share).
As we now have come to expect the red ink-bleeding side of the operation was tape. Quantum's product revenue totalled $143m in the September quarter, a net decrease of $42m from Q2 fy08. It didn't earn enough from disk-based products to offset this. Disk systems and software product revenue was $19m in Q2 fy09, up 26.7 per cent from $15m in the same period last year.
Quantum said it had grown its DXi (deduplicating disk protection product) customer base to past the 400 mark with 100 or so added this quarter. That's excluding any EMC contribution. Rick Belluzzo, its chairman and CEO, has talked of challenging macro-economic conditions. Some larger DXi deals were pushed out into the current quarter. De-dupe has not been able to slay Quantum's loss-making dragon yet and conditions may prolong the dragon's life.
Overland Storage reported deepening losses and is working extremely hard to get funding. Q1 fy09 revenues were essentially flat at $32.3m, (Q1 fy08: $32.9m) with a net loss of $6.9m (-$0.54/share), 53 per cent worse than the year-ago quarter's loss of $4.5m (-$0.35/share).
There were distinct signs of encouragement in the red ink; revenues were up 11.6 per cent sequentially. OEM sales were up 2 per cent sequentially and branded sales revenue increased 12.3 per cent sequentially too as Overland gained its first meaningful network-attached storage (NAS) Snap Server revenues since the Snap Server business was bought from Adaptec in June this year.
Company president and CEO Vern LoForti said: "We are seeking $10 million in funding... we are now in the process of evaluating letters of intent for funding arrangements, and hope to be able to put a facility in place soon."
Sun amidst its dismal quarterly results recorded a four per cent decline in tape product sales. Once again it's looking to get costs and revenues back in balance. We might expect more layoffs or even a disposal.
Symantec recorded better results than any of the tape vendors but layoffs are coming even so. Revenue for Symantec's Q2 fy09 was $1.52b, up six per cent from a year ago. Net income was $140m ($0.16/share) compared to Q1 fy08's $50m ($0.06) - that was very good.
Not so good is the fact that Chairman and CEO John Thompson sees "a slowing economic environment around the world".
Consequently Symantec is expecting a sequential decline in revenues for Q3 fy09, to between $1.446bn and $1.496bn. A spokesperson said it is looking to for 4.5 per cent cost-savings and will lay enough people off from its 17,500 employees to achieve that.