WD adds Firewire 800 to Mac-friendly hard drive
Western Digital has added a Firewire 800 interface to its Mac-oriented My Passport Studio external hard drive line, the better to appeal to buyers of Apple's new MacBook Pro.
MacBook owners are, of course, stuck with slower USB 2.0 drives thanks to Apple's decision not to equip the consumer-oriented model with a Firewire port. Fortunately, the WD drive has a USB port on the back too.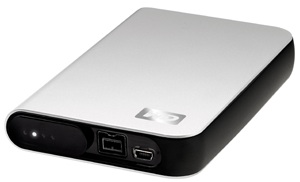 WD's My Passport Studio: now with Firewire 800 and USB 2.0
WD said the drive - available in 320GB, 400GB and 500GB raw capacities - works happily with Mac OS X's Time Machine auto-backup system. The Studio comes formatted in Apple's HFS+ file system.
In the US, the 320GB model costs $200, the 400GB version $230 and the 500GB unit $250. Over here, the 400GB Studio will retail for £118, while the 500GB model is priced at £142. The drives are available now.
Apple MacBook Reviews
MacBook Pro
MacBook