How storage can save the world
Have you hugged your storage manager today?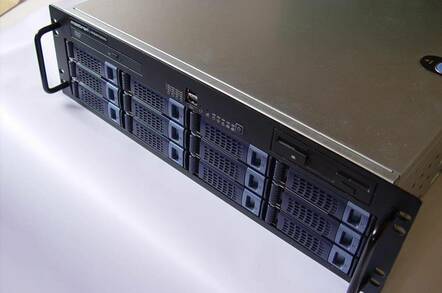 Whitepaper It's a shame storage is so boring - or at least, that it is perceived as such by anyone that isn't actually into storage. A cursory glance from the balconies at Olympia, at last week's Storage Expo would suggest it's anything but dull - there are indeed plenty of people who have a deep interest in all things relating to how information is retained, maintained and ultimately destroyed - and they certainly seemed to be having an animated time of it all, particularly when the cases of beer were cracked open about 4pm on day one.
From the perspective of the outsider, there are essentially three categories of storage guy. There are the hardware junkies, who like nothing more than a discussion on fibre channel architectures and disk transfer rates - "Storage is so much more than speeds and feeds," they say, before talking about exactly that.
Then there are the storage software nuts, for whom all the world is an index - or at least it would be if only they were allowed to be in charge - and who remain just slightly flummoxed that businesses still aren't backing up their heaving pools of data according to policy. Imagine.
Finally, there are the business-facing types who debate the difference between records management and retention management, as if anyone other than records managers and retention managers actually gave a monkey's left nostril. Storage folks are perhaps the IT crowd's IT crowd, as far as stereotypes go.
But in these turbulent times, the trouble is that all these types might be a little more important than the rest of us give them credit. If there's one thing that doesn't seem to be shrinking any, it's our hunger for data – indeed, one can almost imagine, the day after Armageddon, some teenager would be recording a video of the aftermath and looking to post it on YouTube. Credit crunch there may be, but even this spawns blog sites like The Brokers with Hands On Their Faces blog.
It's the same on corporate fileshares and intranets, where "user-generated content" is (so we are told) one of the fastest growing forms of data being managed. One of the toughest things about such stuff is it's very difficult to see what should be kept and what should be binned, for whatever reason – with the inevitable result that everything gets kept. Indeed, in a study we conducted earlier this year, over 40 per cent of respondents actively stated their policy was to 'keep everything'. Even that slightly sick email exchange... or particularly that slightly sick email exchange.
While we aren't convinced the world will ever run out of storage (it's been stated, but seems a tad unlikely), we do concur that there's plenty that can, and should be done to keep things under control. It's not just about coping – efficiency mechanisms are also a good counter to issues of power management, and aspirations of IT sustainability.
There are a number of new technologies that enable storage to be run more efficiently, and the data to be managed more effectively than before – virtualisation, classification and tiering are some of the keywords, all of which suggest that we need to think about storage as far more than just spinning disks. We'd be very interested in your feedback as always, and if you want to delve a little deeper into what capabilities you should be looking for in your storage, take a butcher's hook at our primer. ®