Samsung Innov8 i8510 eight-megapixel cameraphone
Samsung's best smartphone yet
There's a blink detector so pics aren't spoiled by the subject closing their eyes mid-shot. It works as advertised.
One stand-out option among the usual array of shot modes and image effects is an excellent panorama tool. Although you can only take panoramic shots at 640 x 480, the mode uses the motion sensor to help frame a smooth stitched-together sequence of shots. Very clever.
We very much liked the pictures we got from the i8510. Images were sharp and extremely detailed, and colour reproduction was excellent, all in a variety of lighting conditions. Close-up shots were of a very high quality, even in indoor light. We found the camera responsive, and had no problem with shutter lag. Images were processed quickly too.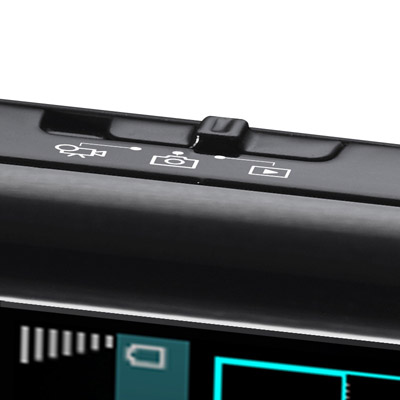 Flick the switch and you can shoot at 120f/s for slow-mo
In low-light situations, pictures weren't quite so great, but the flash does a reasonable job at illuminating close-ups. Overall, we grabbed some of the finest cameraphone images we've yet taken.
Flick the camera's mode switch to video and you can shoot at up to 640 x 480. You can capture footage for playback in quarter- or eighth-speed slow-motion - shooting at maximum 120f/s at 320 x 240 quality, and playing back at 15f/s.
The i8510's media player capabilities include DivX video support, so it's ready to let you make the most of that 2.8in screen. For music, the i8510 is equipped with a typical S60 music player that's intuitive to use. Tracks are tidily arranged under familiar categories - artists, albums, playlists, genres and composers - and audio playback is of a pleasingly high quality. Audio is well balanced, clear and with a good dynamic range: a cut above the norm for a mobile.