Thrustmaster draws Wii weaponry
Dual trigger gun meets light saber
Wii accessory manufacturer Thrustmaster has launched two weapons for the console that'll have both Star Wars and shoot-'em-up fans delighted.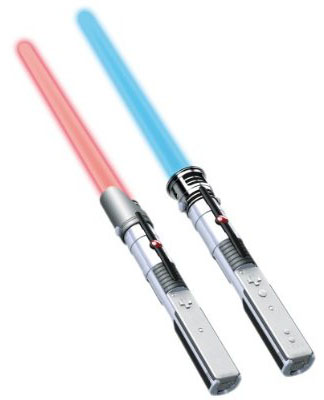 Thrustmaster's Glow Saber: a must for Star Wars fans with a Wii?
The Glow Saber is, as the name suggests, a glowing sabre for laser-sword battles on the Wii. It's described as "the next best thing to being a Star Wars Jedi".
Because sabre duels are no fun by yourself, Thrustmaster's bundled the accessory as a two-sword pack: one blue and one red. Each has 17 LEDs to light up and is powered by three AAA batteries, not included.
The Wii's Remote slots into the bottom of each sabre, allowing the console to recognise each 'schvving' and slice you make at aliens from far, far away galaxies.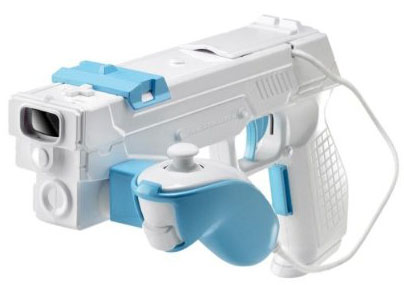 The Dual Trigger Gun
Thrustmaster's also launched the Dual Trigger Gun: a wireless pistol with double trigger action for shooting at, well, anything that moves.
Whilst the Remote slots into a section at the top of the gun, the Wii's Nunchuck sits in a holder on one side of the pistol because Thrustmaster claimed this gives you a more stable shooting position. One trigger activates the B button on the Remote, and the second trigger activates button A.
Both Wii weapons are available now, with the Glow Saber priced at around £18 ($34/€23) and the Dual Trigger Gun priced at about £10 ($18/€12).