Intel shows off 'giant iPod Touch'
Smartphones and MIDs just too darn small for you? Apply within
Intel demo'd what one staffer called a "giant iPod Touch" at the chip giant's gathering of Taiwanese developers this week.
The inflated tablet is based around an 11.1in touch-sensitive display and Intel's small form-factor Core 2 Duo processors - the same chips found in the MacBook Air and other ultra-skinny laptops.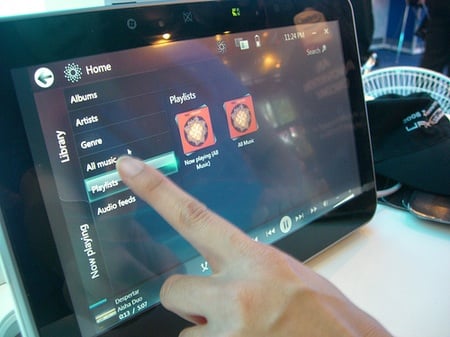 Intel's UrbanMax: you point, but does it click?
Intel's offering is, of course, merely a concept, developed to encourage the company's customers to steer their own product design efforts. This one's called Urban Max, which implies folk carry these things around town centres, tuning in to the wireless internet and playing HD video.
No, we're not convinced either. Most people seem happy enough with devices like the Touch, the iPhone and the growing array of rival touchscreen handsets.
And it's not as if Intel's Mobile Internet Device (MID) notion has taken off in a big way - or at all - let alone a machine with a notebook-size screen, notebook-class processor, high-capacity SSD and probably Windows Vista.
Sponsored: Practical tips for Office 365 tenant-to-tenant migration