Retailer roots out humping-hound USB drive
Shagging dog story?
We never thought we'd get the opportunity to say this, but quirky online retailer Brando really does love to do it doggy style.
Can't see the video? Download Flash Player from Adobe.com
The firm has launched a USB Humping Dog Flash Drive featuring an animated plastic pup that pumps away while sucking up your data.
The humping motion's performed at "high speed", which Brando claimed "somehow just makes it extra funny". We concur.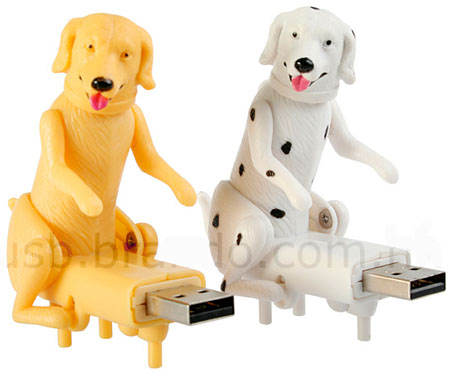 Does it need an explanation?
Inside the mounting mutt lurks an 8GB storage capacity, although the motion might be something you'd rather forget. It connects over USB 2.0 and measures a pocket-friendly 70 x 35 x 72mm.
The icing on the cake is that you can buy the USB Humping Dog Flash Drive as either a "Yellow Dog" - one for Linux fans, surely? - or a "Dalmatian Dog".
Direct yourself to Brando's website now, where the pup's available for $35 (£15/€20).
Sponsored: Becoming a Pragmatic Security Leader