SanDisk's NAND flash white knight
Toshiba deal could help keep Samsung at bay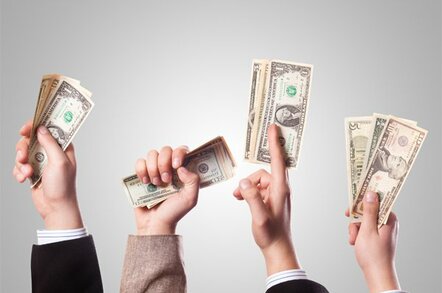 SanDisk is gaining $1bn from a Toshiba manufacturing capacity purchase deal to help prod unwanted bidder Samsung into raising its bid price. At least, that's one interpretation of a pretty darn opaque deal.
The NAND flash market is over-supplied and prices have fallen, suppliers have made lots of losses, and Samsung has seized an opportunity and bid $26/share in a near $6bn attempt to acquire SanDisk. That company has said no deal, but suggested a $35/share bid would be acceptable. No alternative bidders such as Intel, Seagate, or Toshiba have emerged, leaving SanDisk, with its share price currently $14.17, wriggling on Samsung's hook.
Against this background, Toshiba and SanDisk have three manufacturing joint ventures which they own 50-50 and from which they take chip output. Toshiba has agreed to take over 30 per cent of that capacity by paying SanDisk about $450m cash and releasing it from $550m of leasing commitments. That gives SanDisk an effective $1bn positive infusion into its balance sheet.
The remaining 70 per cent of the joint ventures would remain on a 50-50 basis as far as costs in and chips out are concerned. Also, SanDisk and Toshiba will continue to invest in follow-on technology to NAND flash.
If Samsung succeeds in taking over SanDisk then it could try to unwind the joint ventures completely, leaving Toshiba to shoulder the costs on its own and find a use for all the chip output, Samsung having its own chip foundries.
Recently, SanDisk won a royalty licensing agreement court case against Samsung to do with 4-level multi-cell flash. That is thought to make SanDisk more valuable to SamSung and better able to demand a higher bid price.
One interpretation of the Toshiba manufacturing deal is that SanDisk can more effectively persuade its shareholders not to accept the current $26/share Samsung bid and hold out for more. Not that SanDisk is saying so.
Its statement reads: "We appreciate Toshiba's strong support for SanDisk through this agreement. This is expected to reduce our capital spending, strengthen our financial position and increase our business flexibility while maintaining the economies of scale of (the other fabs)." Well, terrific.
Toshiba's statement goes like this: "(Toshiba) believes that the NAND flash memory market will continue to grow in the medium to long term with average annual bit growth rate of more than 200 per cent, supported by such established applications as cellular phones and digital camcorders, and by emerging applications such as solid state drives (SSDs) for notebook computers and servers.
"Sole ownership of some 30 per cent of the total capacity of the two fabs will allow Toshiba to be even more flexible in making decisions on production volumes in line with changes in market demand. Acquisition of part of the existing production equipment in use will also allow Toshiba to quickly expand its manufacturing capabilities at a lower cost and with a shorter ramp-up time than by procuring new equipment."
The 'medium term' means a period within the next three to ten years - the Samsung bid should have succeeded or failed well before then. So the moves that Toshiba is making are taking place inside a game plan with all the clarity of a brick wall. ®