Motorola touts touchscreen phone tech to Trekkers
Krave phone features interactive, clear, flippy thing
Touchscreen phones are ten-a-penny nowadays, so Motorola is fighting back by crafting a handset with not one but two touch-sensitive panels.

Motorola's Krave ZN4: Star Trek obsessives rejoice!
The Krave ZN4 packs what Motorola calls an "interactive clear flip" that folds down over the main touchscreen. No mere see-through sheet, the flip is apparently touch-sensitive in its own right.
The idea is that you can read your text messages, diary appointments and so on with the lid down.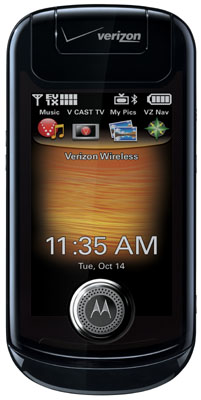 Why bother opening your phone to read text messages?
Since you can do that just as easily with the flip up, why add the cover at all? Extra protection, partly - but mostly to appeal to Star Trek obsessives, we suspect.
When the flip's open, you can access the phone's full range of features from the 2.8in, 240 x 400 touchscreen. The inside of the lid doesn't do anything technical and isn't touch sensitive.

3G features, but only for the US, and there's no Wi-Fi
The Krave has a virtual Qwerty keyboard and provides haptic feedback. Although the talker's set-up for the US' EvDO 3G networks, it doesn't sport Wi-Fi. Bluetooth 2.0 is present for short-range transfers, typically of pictures and videos stored on Micro SD cards plugged into the phone. Krave can take cards of up to 8GB. There's a two-megapixel camera on the back.
A 3.5mm headphone jack's built into the phone, and the now obligatory accelerometer means your images will always be displayed in the correct orientation as you move the handset around.
Motorola's Krave ZN4 has only been released in association with US carrier Verizon, so far. A UK launch date or price hasn't been given yet.