Servers take dive in IBM's third quarter
Big boxes can't pull 'em up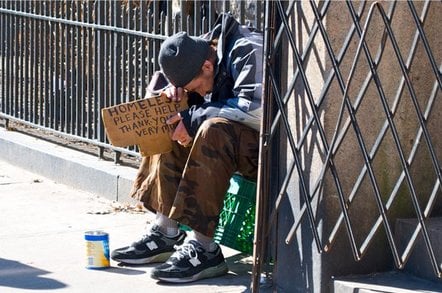 When IBM pre-announced its revenues and earnings as the market was swooning two weeks ago, in an effort to calm a staggering and falling Wall Street, the company's overall numbers gave the impression that Big Blue was weathering the financial storm. While this may be true in the aggregate, to IBM's, er, credit as an IT supplier, certain portions of its business - particularly certain server lines - didn't do so well. Decide for yourself if this is some kind of leading indicator for the rest of 2008 and maybe 2009.
IBM's sales for the third quarter came to $25.3bn, up 4.9 per cent, with net earnings of $2.8bn, up 19.6 per cent, driven in large part by ongoing cost-cutting efforts and a shift away from pension plans as well as some growth in margins on products. earnings per share came in at $2.05, up 22 per cent and boosted a bit (4 cents a share) by share buybacks.
Growth in services and software, once again, saved IBM's financial cookies, as did high-end servers. While IBM tries to pitch itself as a services and software company, the truth is that systems - meaning the combination of servers, systems software, and services relating to those platforms - are really what drive a lot of Big Blue's sales each quarter. And servers are the foundation of that business, so what happens here matters.
IBM's Systems and Technology Group, which makes and markets servers, storage, processors, and other hardware, saw sales decline by 10 per cent in the quarter to $4.4bn. The ramp of quad-core System z10 mainframe sales helped out in a big way in Q3, with aggregate MIPS shipments for mainframes up 49 per cent and revenues up 25 per cent.
Legacy Crash
Mark Loughridge, IBM's chief financial officer, said in a conference call with Wall Street analysts today after the market close, that specialty (and lower cost) mainframe engines for running Linux, Java, and DB2 algorithms experienced a 120 per cent growth in MIPS shipped during the quarter. Loughridge said that the mainframe line exhibited double-digit revenue growth in all geographies.
The so-called Converged System p line - which means any System p or Power Systems AIX or Linux box regardless of processor technology and any Power6-based server running the proprietary i5/OS or i operating system - had 7 per cent growth, according to Loughridge, while the Legacy System i business - which means any Power5 or Power5+ server running i5/OS or i - crashed down by 82 per cent.
This was not unexpected since IBM is about ready to withdraw the older gear, which was replaced in April, from its catalog. The way IBM is breaking down Power Systems sales is completely asinine, except that it helps IBM create the illusion that its System p-Power Systems business is growing when it probably was not in the first quarter of the year and maybe not in the third quarter, either.
The high-end Power Systems server line grew by 19 per cent, Loughridge said, and the midrange of the line saw sales rise by 21 per cent. Some of that is just what happens when you move what would have been System i sales last year into the System p product line. Some of it is real growth, driven by virtualization and server consolidation, as well as workload growth among some of IBM's Power Systems customers.