1980s Apricot reborn in noughties as netbook seller
Biz-oriented PicoBook Pro launched
One-time UK computer industry darling Apricot has been revived as a maker of Small, Cheap Computers and is launching its first offering today.
Enter the PicoBook Pro, an 8.9in netbook based on chip maker VIA's C7-M processor and OpenBook platform.
The PicoBook Pro has a 1.2GHz CPU, 1GB of 667MHz DDR 2 memory and a 60GB hard drive. There's a 1.3-megapixel webcam in the bezel above the 1024 x 600 display.
We particularly liked the trackpad that, although small, is integrated into the wrist-rest area so there's no edge around it. Why, we don't know, but it makes using the tiny thing much more effective than other small trackpads.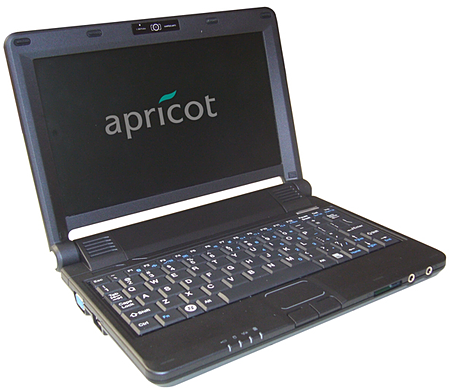 Apricot's PicoBook Pro: VIA based, business oriented
The battery is a 2200mAh unit giving, Apricot claimed, 3-4 hours runtime.
A number of elements make the Pro stand out from the SCC crowd: like Fujitsu-Siemens' upcoming Amilo Mini, it has an ExpressCard 34 slot. Rarely for a netbook, it supports 802.11a Wi-Fi as well as 802.11b/g.
That, plus the inclusion of SuSE Linux Enterprise Edition and that 'Pro' suffix, suggest Apricot's pitching the product more at the business market than the traditional newbie audience SCCs have been tailored to thus far.
Indeed, Apricot's CEO, Shahid Sultan, told Register Hardware that the Pro is a "quality... premium product" aimed at a more demanding user.
Which is why the Pro's not so cheap: it retails for £279 with Linux pre-installed, rising to £328 if you'd rather have Windows XP. Both versions can be ordered direct now, but they're not expected to ship until toward the end of the month.
Watch out for a full review shortly.
Netbooks and mini-laptops Buyer's Guide