Koreans create dancing droid
Who says white bots can't dance?
Korean boffins have created a robot that can, they claim, can dance. 'Your plastic pal who's fun to be with' here at last, we wonder.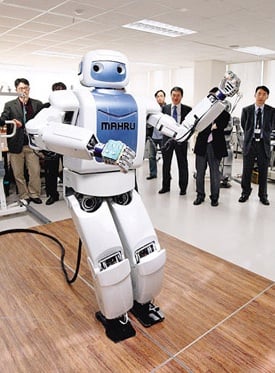 Mahru: play that funky music, white-bot
Image courtest Daily Chosun
The mechanical man's called Mahru, and it can wave its arms around while trundling around on two legs. Apparently, it does this to the tune Tell Me by the Korean popular beat combo the Wonder Girls.
How well it can strut its funky stuff remains to be seen - Mahru will get its first public outing at the Robot World 2008 show that kicks of in Seoul on Thursday.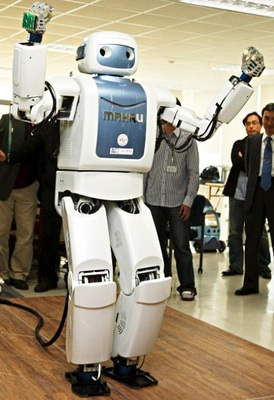 Stayin' alive
Mahru was made by a team at the Korea Institute of Science and Technology. Team leader You Bum-jae claimed the droid was designed to manual labour. Boogieing on down might not sound like the kind of tasks humans need help with, but You said a robot's ability to move all of its limbs separately and simultaneously was a major step forward in creating a work 'bot.
Not that You's creation is the first to do so: Honda's Asimo holds that honour, he admitted.
Video Report: Honda unleashes stair-climbing robot