Asus Eee Box Atom-based desktop mini PC
Small, Cheap Computers aren't just laptops, you know
How well did it perform? According to PCMark05, exactly like all the other Atom-based Small, Cheap Computers out there. The chart shows the Eee Box's numbers set against figures from a small selection of Atom-based netbooks and a 2GHz Core 2 Duo-equipped Acer Aspire 2920 laptop.
PCMark05 Results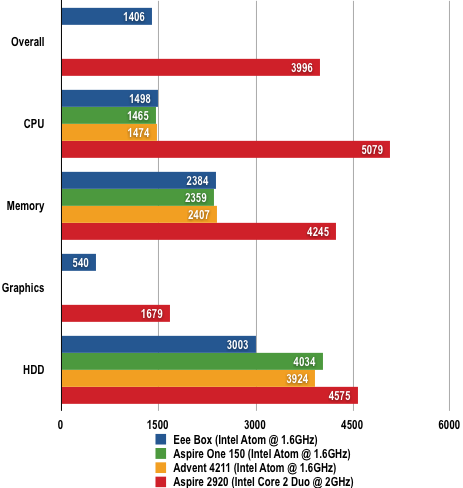 Longer bars are better
Because it supports a standard screen size of 1280 x 1024, the Eee Box would run PCMark's graphics tests when other SCCs won't, hence the gaps in the Graphics and the Overall sets. But it's clear the Core 2 Duo machine knocks the Eee Box into a cocked hat, performance-wise.
Mind you, it costs twice as much, and the question you have to ask is whether all the raw performance is necessary. The Eee isn't a machine for serious Photoshop users, for instance, or for folk who want to edit or transcode video. This is not a number cruncher's box, or a games machine, and it doesn't pretend to be. But we had no trouble doing casual Photoshop picture editing.
The Eee Box in either of its colour schemes will set you back a reasonable £250. You'll have to buy a monitor, keyboard and mouse separately, unless of course you already have these essentials.
You can buy a cheap Dell desktop for £250 too, but it'll be a chunky, ugly box. Dell's rather more stylish Studio Hybrid, which is about 2-3 times as thick as the Eee Box, comes in at £400, but that's with a single-core Celeron M processor. Going dual-core takes the price to £439, but either model comes with a optical drive and a 160GB HDD. You'll have to add an external optical drive if you plan to install on the Eee any apps you can't download.
Verdict
Just as Asus re-invented the laptop, it has introduced a new take on the mini PC. Intel's Atom is no powerhouse, but it provides sufficient horsepower for all but the most demanding of computing tasks. It's fine for internet, media playback and office apps. It's cheap and looks cute too. What's not to like about this simple, successful product?

Asus Eee Box Atom-based desktop mini PC
Ultra-compact desktop that's cheap and well up for basic computing tasks.