BlackBerry Bold drops off Orange website
Video software problems to blame?
Software issues affecting the BlackBerry Bold appear to have spurred Orange to suspend all UK sales of the 3G handset.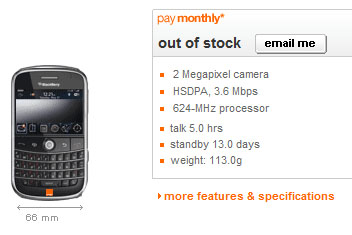 Orange's website does nothing to dispel the broken Bold myth
According to an allegedly leaked internal Orange memo, which was seen by website Mobile Tech Addicts, the network operator has said that: "Following reports of software issues with the BlackBerry Bold handset across a variety of mobile operators, Orange has decided to act in the interest of its customers by suspending shipments of the device in the UK."
Although no other UK mobile operators have spoken up publicly about the problems said to be affecting the Bold, Orange's memo went on to state that it could take up to "a couple of weeks" for manufacturer RIM to fix the problem.
It's not clear exactly what problems the software issues are causing on the phone, but a report by Australian IT has said that a limited number of Bold buyers Down Under have experienced video playback problems on the handset. RIM is expected to release a software update to fix this.
In the UK, Orange currently has the BlackBerry Bold listed as "out of stock" on its website. Calls to the company have, so far, gone unreturned.
If you've experienced any "software issues" with the BlackBerry Bold, please let Register Hardware know.
Sponsored: Minds Mastering Machines - Call for papers now open