Apple to detail latest laptops on 14 October
But what'll Steve pull out of his envelope this time?
It's official: Apple is updating its MacBook laptop line next week - the Mac maker has mailed out invites to an event at which "the spotlight turns to notebooks".
And we turn to what's likely to be announced. Centrino 2-based - but not branded - MacBook Pros are the most likely, as Apple takes advantage of Intel's latest mobile-technology update. There's a consensus that the new models won't look radically different from the current ones, but they will sport black, lozenge-style keyboards of the kind already used on the MacBook Air.
Possible changes: the elimination of Firewire 400 ports in favour of 400-compatible - with an adaptor - Firewire 800. And a mini DVI port in place of a full-size DVI connector, primarily to help reduce the machine's thickness. We'd like to see an HDMI port too, or at least an adaptor in the box.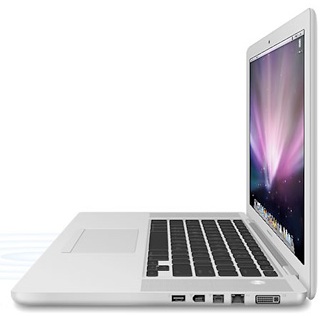 Apple's next MacBook Pro... and MacBook too?
Air updates are a distinct possibility as Apple leverages - again - new Intel chip technology and storage developments to offer more capacious HDD and SSD models. Hopefully, the HDD models will use SATA drives - the current Air's parallel ATA drive is a key weakness. So is a lack of Ethernet and more than one USB port - we'd like to see Apple address these points too.
The consumer-oriented MacBooks look set to go aluminium, just as their desktop equivalent, the iMac, has. Think a 13.3in MacBook Pro, and you've got as a good a mental picture as any of what the new machines are expected to be.
Pricing is a subject of much debate. Will the MacBook debut at under $800 (£474/€591), as some are saying? It's possible, but a difficult trick for Apple to pull off, and speculation about fancy new manufacturing techniques - the case will be cut from a solid block of aluminium, it's been said - doesn't sit well with the notion of budget hardware.
Still, at least one analyst has forecast a MacBook with "an aggressive entry-level price point".
How about a MacBook Nano? That's been suggested too - Apple's entry into the Small, Cheap Computer arena. Given Apple's insistence that the Air sports the ideal ultra-portable laptop form-factor and the way it pitches the iPod Touch as a de facto handheld web tablet, we're sceptical, but we'd quite like to see a skinny, compact Air-style SCC nonetheless.
Whatever happens, we'll find out for sure on the evening - or morning, Cupertino time - of 14 October.
Apple MacBook Air Review