Sanyo beams as next-gen laser cuts it for 100GB Blu-ray Disc
Princess layer
Sanyo has developed a blue laser that could enable 100GB capacity Blu-ray Discs and 166.67MB/s write speeds, 12 times the standard speed.
The new GaN laser diode operates at 450mW in pulsed mode - current diodes run at 250mW - and has enough power to write to four layers in a BD. Current disks top out at two 25GB layers and 6x writing speeds. Four layers means 100GB, said to be enough to store eight hours of HD video.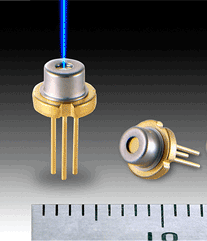 The 12x writing speed effectively means 10GB/min or 166.66MB/sec
Sanyo has achieved the power in part by using higher-quality optical technology to to reduce light loss. It also added an edge coating to enhance what it called long-term reliability.
The Blu-ray Disc Association (BDA) would need to approve the four-layer disc the new laser makes possible before any such product could carry the Blu-ray logo.
Sanyo reckons 100GB, 12x Blu-ray drives could arrive in 2010. It's possible that Blu-ray jukeboxes, used for storing archival data, could then increase in capacity. However, BDs no longer come in cartridges, and this has been cited as a weakness by enterprise-oriented optical disc suppliers such as Plasmon and InPhase.
Plasmon is currently in administration and negotiating with a buyer for its archive software/hardware business which has been plagued by the high cost of its drives. InPhase has been troubled by prolonged development delays, and its 300GB holographic drive has been said to be priced at $12,000.
Enterprise optical disc storage is stuck in a niche and unlikely to emerge from it unless it can get drive prices down. A 100GB would help do just that.
Were the BDA to formalise and promote a standard for a Blu-ray Disc in a cartridge then it would be game-over for competing optical disk technologies in the face of Blu-ray's overwhelming market credibility.
There are reports that Microsoft is considering adding an external Blu-ray drive option to its Xbox 360 games console, which used to support the now defunct HD DVD format. ®