Web palmtop offers life-time no-limits mobile surfing for £60
No 'fair use' policy either
Datawind has upgraded its PocketSurfer web browsing palmtop with a new airtime package that offers unlimited internet access for life, all for a mere £60.
That's on top of the £199 you'll pay for the PocketSurfer 2R itself, which uses cheap GPRS cellular access and server-side site cacheing and data compression to give you what the manufacturer claims is broadband-fast web access.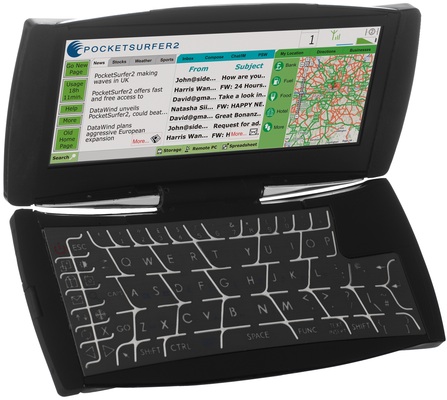 Datawind's PocketSurfer 2R: life-time surfing for sixty quid
Datawind bulk-buys airtime, with the PocketSurfer's embedded SIM connecting to whichever network Datawind currently has a deal with. Its data compression scheme not only speeds up surfing but cuts down on its costs, allowing it to offer airtime which is, it said, truly unlimited, with no 'fair use' policy whatsoever.
Roaming is priced at a 5p a minute across Europe and the US.
It's a shame, then, that the device is a tad on the crude side, with a 640 x 240, 65,000-colour screen that belies Datawind's claim that the PocketSurfer puts a desktop internet experience in the palm of your hand.
The 152 x 75 x 15mm, 174g gadget has a built-in rechargeable battery that's good for four hours' runtime, but Datawind admitted its CPU is "not suitable for audio, video or fast-moving gaming applications".
Available from today, the PocketSurfer 2R come with 20 hours' free access a month, after which you pay £6 a month for unlimited access then a second-year charge of £40 - unless you opt for the £60-for-life package.
Datawind PocketSurfer 2 First Look
Sponsored: Detecting cyber attacks as a small to medium business