Asus Eee PC 1000 10in Linux netbook
The Eee family expands - literally
In short, there's enough functionality here for 90 per cent of users, and nothing so tasking that the remaining ten per cent can't get what they want too. There's a big Eee user community now, and plenty of websites that offer guidance on customising the machines to your individual needs.
It's even easier for hardware tinkerers: there's a big hatch on the base of the 1000 that, when opened, reveals the 32GB SSD, the memory and the 802.11n Wi-Fi card. You can also see the main, 8GB SSD and the IDE interface points to which the connector is soldered for the 1000H's hard drive - the HDD sits in the same bay as the 32GB SSD, but at right angles to it.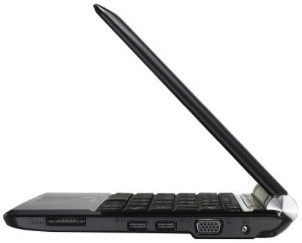 No surprises on the right side, either
With the exception of the keyboard, the 1000 feels sturdy, and with its chrome-like details, it's not a bad looker, either. We're not fans of the pearl white model, or the shine applied to both this and the black 1000, but neither are offensive. Still, Asus could take a leaf out of other SCC makers' books and offer some alternative colours.
Our favourite remains the matte-black casing of our own Eee 701 - unlike the others, this was a colour scheme that lent the laptop gravitas.
For all that and the issue of the cheap-feeling keyboard, using the 1000 was no less a joy that working with any of the other SCCs we've tested. Xandros is one of the better netbook incarnations of Linux, and while open source OS buffs might prefer the up-front flexibility, functionality and power of, say, Ubuntu, at least with Xandros all the Eee's features work out of the box.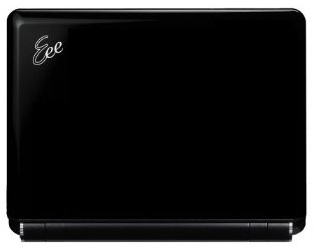 Shiny but not ugly
Some buyers may prefer the familiarity of Windows, especially if they need to run specific apps or hardware that lacks Linux support, but there can't be many of those. For the rest of us, Xandros provides a perfectly decent, functional computing experience.