LG KS360 Qwerty keyboard phone
Light on the latest must-have mobile features?
An FM radio is built in - the supplied earphones have to be plugged in for it to work. These are limited, and with no 3.5mm socket on the phone - it's a multi-purpose USB/charger/earphone connector - the audio performance is average. Stereo Bluetooth headphones can be used for wirefree listening, and there's a loudspeaker too, which is loud but not great quality.
The KS360's two-megapixel camera is one of LG's lower-level shooters. It's a simple-to-use affair, with a side-mounted camera button that switches the screen into landscape viewfinder mode. Unusually, the snapper button is on the left and zoom/volume controls are on the right when framing shots, while all button pressing for selecting options is left-hand work - sinistral users will appreciate the novelty.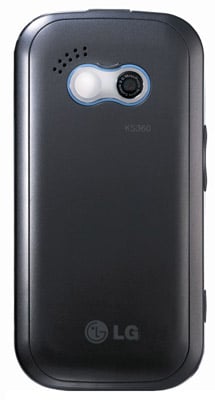 The 2Mp snapper is one of LG's lower-level shooters
With no autofocus system or flash, and a limited resolution, the KS360's camera isn't not geared up to take great shots. It's capable of taking casual snaps but colour quality and detail aren't great – tones can be vibrant, but the auto metering system can also give colour casts to images. Contrast isn't good either, even in straightforward outdoors lighting, while indoor shooting quality is poor.
There are the usual cameraphone standard adjustments and effects to hand, and a facility to upload and back up shots on Orange's network. But really, the KS360's shooting abilities aren't its strong suit. Video shooting, at average QVGA (320 x 480 pixels) resolution, is nothing to text home about either.
Completing the features run down is a basic Wap 2.0 browser, plus a typical selection of organiser functions and tools: calendar, alarm, memo, voice memo, calculator, stopwatch, unit convertor and world clock. There's a selection of Java games and demos – all standard stuff.
The call performance of the KS360 is perfectly acceptable. Audio is clear and loud, and we had no issues with the handset. Battery life is pretty good too, provided you don't spend too much time downloading or uploading content. LG claims it will provide up to five hours' talktime or run for 444 hours on stand-by. We managed just over three days between charges with average usage.
Verdict
With its Qwerty keyboard and limited touchscreen, the KS630 is designed to tap into a niche audience who'll be attracted by the messaging convenience of a Qwerty keyboard rather than a mobile phone numberpad. While there's certainly no shortage of much better-equipped high-end keyboard-packing phones around, the KS360 delivers its messaging message at an affordable, low-end price.

LG KS360 Qwerty keyboard phone
Qwerty keyboard and touchscreen dialling give the LG KS360 low-budget text appeal - even if other features don't always hit the right notes.
Price:
Contract: free. Pre-pay: £70-110. SIM free: £120 RRP