LG KS360 Qwerty keyboard phone
Light on the latest must-have mobile features?
LG tries to pull a few design strokes to give this phone a fresher, stand-out feel. Eye-catching paint jobs are one way – the KS360 is available in various striking colour combinations, among them black with blue, red, pink or silver keyboards and trim.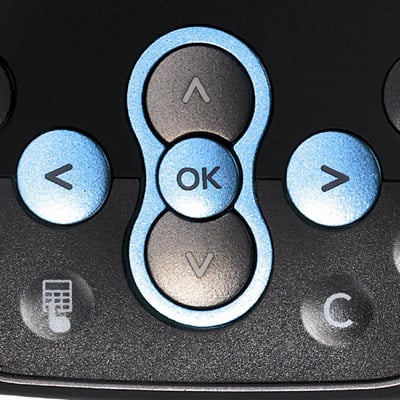 No navpad, just separate keys
Another is the buttonry. Instead of a regular navpad, LG has deployed rounded directional buttons around a central OK key. These smoothly edged buttons are raised just enough off the surface to make them fine to press, though the OK button is a bit too cramped for comfort in between the up and down buttons.
Conventionally laid out soft-menu keys and moulded surface call/end buttons are joined by a oddly marked 'pointing finger' key. Tap this and the touchscreen numberpad pops up. This looks smart on-screen, and numbers are comfortably large for trouble-free pressing. There's even haptic feedback to confirm your digital dabbing. The display itself is a 2.4in, 240 x 320 screen - a good size for a handset at this price point, touchscreen or not.
It's a shame, though, that the touchscreen's not utilised for menu scrolling or applications. It would be handier than using the slide-out keyboard any time you want to press numbered menu options rather than scrolling down list, for instance.
Away from the tantalising but restricted touchscreen, the keyboard is naturally where attention focuses. Of course, it adds to the bulk of the phone – the KS360's overall dimensions are an un-waiflike 101.5 x 51 x 16.8mm and it weighs 111.5g.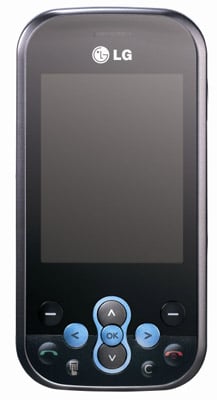 An under-utilised touchscreen
The 35-button keyboard is compact but slides out solidly and smoothly. Buttons are understandably pretty small. Like the front controls, they're rounded and slightly raised above the surface, and there's just about enough daylight between them to make thumb typing viable.