LG KS360 Qwerty keyboard phone
Light on the latest must-have mobile features?
Review Normally you'd suspect any handset with a slide out Qwerty keyboard and touchscreen functionality of having smartphone aspirations. But not so the LG KS360.
This is a handset designed to appeal squarely to younger mobile buyers looking for messaging and social networking on the move. It has a budget price tag to match, selling for less than £80 in Orange pre-pay packages.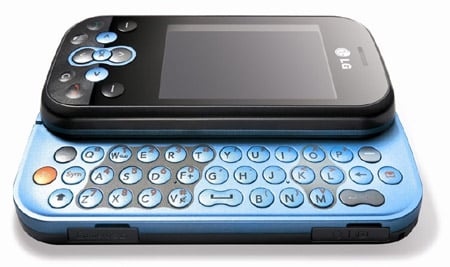 LG's KS360: sliding sideways
The KS360 looks to all intents and purposes like a regular, if slightly chunky, sliderphone. But rather than having a slide-down numberpad, the KS360's screen moves sideways to reveal said Qwerty keyboard. When the numberpad slips out, the screen automatically switches orientation to typing-friendly landscape mode.
That screen does have some touch capability, but it's far from being an iPhone rival. In fact, somewhat curiously, it works for just one particular feature: number dialing, using a virtual numberpad that appears when the phone's slider is closed.
So the Qwerty keyboard is central to the KS360's appeal. The phone is geared up for messaging, with easy to use email and instant messaging apps, as well as regular texting and MMS.
It's also set up for quick access to social networking sites like Facebook, Bebo and MySpace, although what you can get will depend on what sites your mobile network operator allows. Our Orange-locked sample provided additional links to YouTube, Flickr and Dating Direct from the Orange social networking page.

Only Edge, not 3G
The KS360 relies on standard GSM, GPRS and Edge for connectivity rather than 3G, so speed is limited. There's a camera on board, though this is a basic two-megapixel snapper, without a flash.