Dell Latitude E6400 14in business laptop
Dredd-ful new design?
The lower half will clearly take some knocks - but we're not sure the screen will.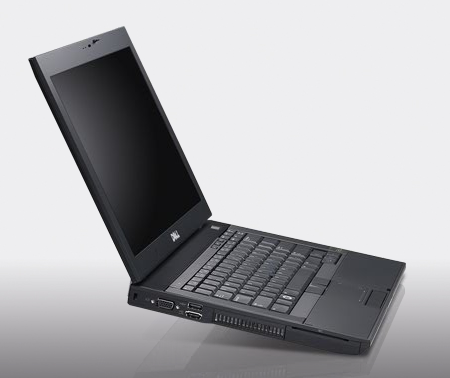 Ports to left...
Our unit came with Dell's 1440 x 900 LED-backlit display, though it also offers a cheaper, 1280 x 800 non-LED job. We can't address that panel's quality, but we quite liked the higher resolution one, though with the default, dark desktop wallpaper, it did look a trifle gloomy at first, and it doesn't go as bright as other LED-backlit panels we've seen.
The E6400 weighs in at just under 2kg, and doesn't feel too much of an encumbrance. Its other dimensions are 335 x 238 x 31mm. It feels large for a 14in machine, though it's no bigger than the 14.1in Sony Vaio C2 we have sitting next to it at the moment. But then the Sony has those consumer-friendly curves, so clearly all those straight lines and right angles make the Dell not only seem serious but large too.
Prices start at £549 exc. VAT, rising to £774 for the model we reviewed and beyond as you run through the many spec options. The test unit came equipped with a Core 2 Duo P8400 processor clocked to 2.26GHz, 2GB of DDR 2 memory and a 160GB hard drive. It also comes with 802.11n Wi-Fi - 802.11b/g is an option, either Dell's unit or Intel's - and Bluetooth on board.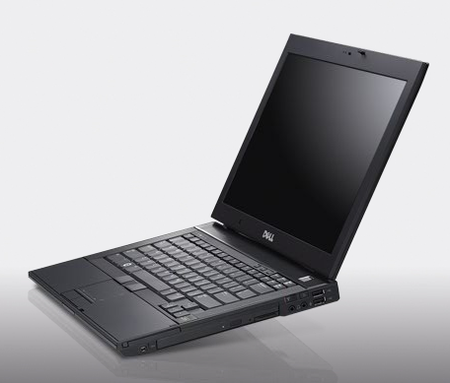 ...ports to the right
There's a similar array of operating systems available, running through the range of 32-bit and 64-bit Vistas. Ours had 32-bit Vista Business Edition, which scores the E6400 with an Experience Rating of 3.8, derived from CPU, memory, desktop graphics, 3D graphics and HDD scores of 5.2, 5.9, 4.1, 3.8 and 5.2, respectively.