Dell Latitude E6400 14in business laptop
Dredd-ful new design?
The Latitude's work surface is no less busy than the rest of the machine. The keys fit comfortably between a pair of MacBook Pro-style speaker grilles at the sides; three volume keys and a bar of blue status lights above; and, below it, three thumbable keys that go with the joystick control.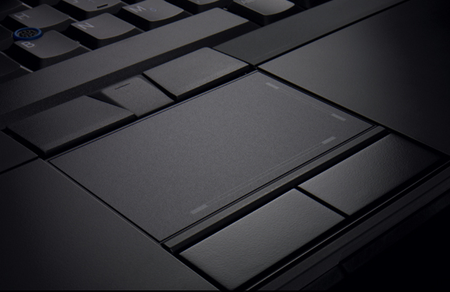 Three-button trackpad - and a joystick
Don't like joysticks? There's a trackpad too, complete with left and right keys and scroll zones. Tucked below the right speaker grille is a fingerprint reader, security fans, and there's a contactless smart-card reader built into the right wrist-rest area.
Back to the keyboard, and while it's not particularly offensive, we weren't keen on the smooth surface of the keys. The travel's good, but the keyboard as a whole does flex, which we don't like at all.
That said, a plus point is the keyboard backlight. We love this MacBook Pro feature, and it's really good to see it make its way at last into the PC world. Anyone who uses their notebook in a darkened lecture hall, or in generally dim lighting conditions, will appreciate this. The only flaw: the light's on or off - you can't adjust its brightness.
Despite the forbidding, old-stoney-face styling, we have to say the E6400 doesn't look bad. This is no bland business box. The body of the machine has a solid, rugged feel - only the wrist-rest area rings hollow when tapped.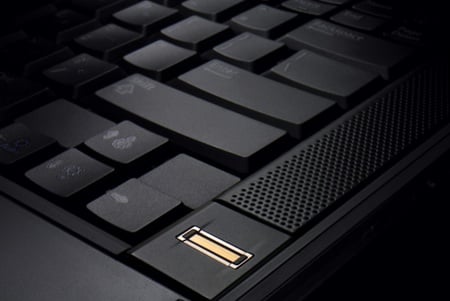 Fingerprint protection
The screen hinges latch onto the display from the back and are fairly stiff so you're as likely to steer the laptop toward you as close the screen if you pull it from the top. Unlike the lower half of the laptop, the lid lacks rigidity. It doesn't bend like the Toshiba Portégé R500's does, but it's thin and has a plasticky feel that's at odds with the solid feel of the keyboard section.