Memory gluttony slims suppliers
Micron's mucky manufacturing mess-up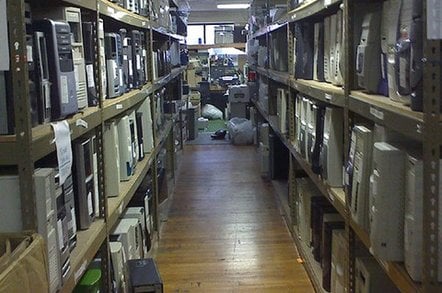 Micron announced truly appalling results for its 2008 fiscal year and its senior executives took a 20 per cent pay cut as a mark of shame.
In the crazy world of DRAM and flash, gluttony is slimming - to balance sheets that is. Micron has been contributing to a glut of DRAM and NAND flash memory against a background of falling prices and market over-supply, and is paying the consequences as a tide of red ink washes over its financial reports.
For every dollar income it received in fiscal 2008 (fy08) it spent $1.26. The money hasn't gushed out - this is an excruciatingly slow and drawn-out blood-letting.
In fiscal 08 its sales were $5.8bn but it made a net loss of $1.6bn ($2.10/share). The fiscal 2007 revenues were $5.7b with a net loss of $320m, so sales rose 1.8 per cent year-on-year but the net loss rose 500 per cent. Ouch!
The fy08 net loss was bulked up by NAND flash inventory write-downs to match market prices for Micron's chips, and a whopping charge of $463m for a goodwill write-down. Micron has made a loss for seven quarters in a row and memory sales declined four per cent from Q3 fy08 to Q4 fy08. NAND flash sales declined 20 per cent over the same period.
Looking ahead, PC demand is slumping, meaning lower demand for memory chips - although notebook demand looks better. The flash market has also had a poor year for suppliers, and its outlook is not rosy.
Micron is cutting its capital spending and focussing on making its operations more efficient. Competitor Hynix Semiconductor is reducing its capacity by closing down some of its fabrication plants.
It's blindingly obvious that the DRAM and flash suppliers need to consolidate so as to reduce output and enable prices to get back to a sustainable level. We'll all have to pay more for memory then of course, but the present situation is unsustainable. Sooner or later one or more suppliers is going to throw in the towel and look for a merger or acquisition; joint ventures have been pursued, but don't seem to be the silver bullet required.
Micron has persuaded Nanya to exit a relationship with troubled Qimonda and set up a DRAM manufacturing joint-venture. It has been rumoured to be thinking of trying to buy Qimonda but nothing has come of that. Qimonda and Elpida have been talking about joint manufacturing, but haven't actually bitten the bullet yet.
Micron is also a partner in IM Flash Technologies with Intel. That JV's planned flash fab in Singapore remains delayed and won't now be equipped until at least 2010. The firm also has a CMOS sensor business which did grow in fy08 and Micron is looking to spin it off via a private equity deal.
Toshiba, SanDisk and Samsung
The NAND flash glut has also decimated SanDisk's results, and it is on the receiving edge of a takeover bid from Samsung. SanDisk says the bid is too low and is open to offers elsewhere.
Toshiba is SanDisk's partner in a joint flash manufacturing venture and had been identified as a possible white knight bidder. The firm has knocked that idea on the head, saying it sees no good reason to make a bid.
With nobody else visibly saddling up and rising to SanDisk's rescue, it looks like Samsung is going to have its unwanted way and ride off with SanDisk into the Korean sunset. ®
Sponsored: Minds Mastering Machines - Call for papers now open