Sony all-in-one PCs get even more iMac-alike
Say hello to the Vaio JS1
As laptop prices fall, it's easy to forget that not everyone wants to lug a laptop around – no matter how light it is. Sony has realised this and launched its latest all-in-one slimline desktop.
The Vaio JS1 looks like Apple's iMac, meaning the Sony PC's 20.1in screen has everything needed on a computer, such as storage and the CPU, integrated behind the screen.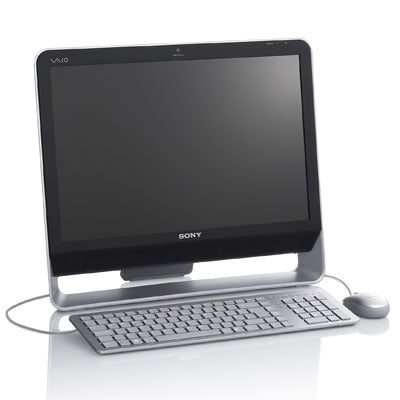 Sony's iMac Vaio JS1
It's based on Intel's 2.53GHz E7200 Core 2 Duo processor, which sits on a 1066MHz frontside bus. There's 3GB of memory in the machine and Intel's integrated GMA X4500 HD drives the display.
There's 500GB of HDD capacity available to users, and a side-loading DVD rewriter drive. Some models come with a Blu-ray Disc reader, others with a Blu-ray burner.
According to Sony, the JS1's display is perfect for watching movies because not only does it sport a 1680 x 1050 resolution, but it's also paired with Dolby Home Theatre technology and a Sony Reality signal processor chip that combine to create what it claims is "impressive virtual surround sound".
Integrated webcams are becoming increasingly common features on Sony Vaio machines, and the JS1 is no exception. The PC can also connect over 802.11n Wi-Fi.
Sony hasn't given a UK launch date for price for the Vaio JS1 just yet.
Sony Vaio JS1 Photo Gallery