Hubble transmissions cease as computer fails
Backup a bit dusty
The Hubble space telescope has stopped transmitting data to Earth after a data formatting computer failed. A Shuttle service mission to the telescope has been delayed for four to six months while a replacement formatter and its installation procedures are prepared.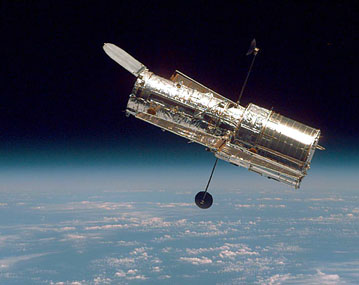 The Hubble space telescope in orbit.
Hubble has a Science Instrument Control and Data Handling unit which manages the various instruments, receives commands from the ground control centre and sends scientific data and images to Earth. It relies on a microprocessor-based Control Unit/Science Data Formatter (CU/SDF) to receive data from the telescope's five main instruments and format it into packets for transmission.
There are two of these formatters, and the operational Side A unit failed on Saturday 27 September. Both a restart attempt and a memory contents dump command failed.
The backup Side B unit has not been fired up since Hubble went into orbit 18 years ago and, were it to be switched on as planned, the five other instruments would need resetting to use it. In theory, this can be done remotely from ground control at the Goddard Space Flight Center in Greenbelt, Maryland, although it has never been done before.
NASA staff suggested that the Side A unit could have failed from prolonged operation at its relatively high operating temperature and/or because of incoming radiation.
The Atlantis shuttle mission was scheduled for an October 14 lift-off, and involved seven astronauts in an 11-day mission aimed at extending Hubble's operational life for another five or so years with a comprehensive set of repairs. It would have been the first manned mission to Hubble since March 2002.
The mission objectives are being altered, with a replacement Side A unit being prepared and restart procedures being practised by ground control staff and the shuttle crew. The shuttle will now lift off in February, possibly even April, next year depending upon progress. If the remote restart and reset procedures fail Hubble will be silent, transmitting nothing until then. ®
Sponsored: Detecting cyber attacks as a small to medium business