Chrysler grows iPod Peapod
Electric car drained by iPhone dock
'Leccy Tech Chrysler has redesigned its Peapod range of electric cars with a model aimed directly at iPhone and iPod users.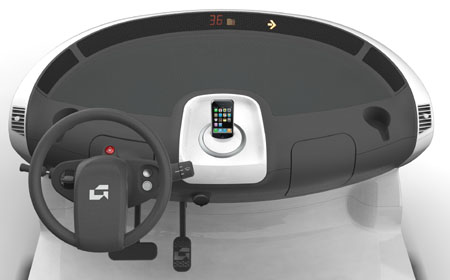 Chrysler's redesigned Peapod: now with an iPhone/iPod dock
The GEM Peapod – Green Eco Mobility (GEM) being Chrysler's electric car division – has had its centre console redesigned for iPod/iPhone integration, allowing the driver to make a hands-free call while silently motoring down the road.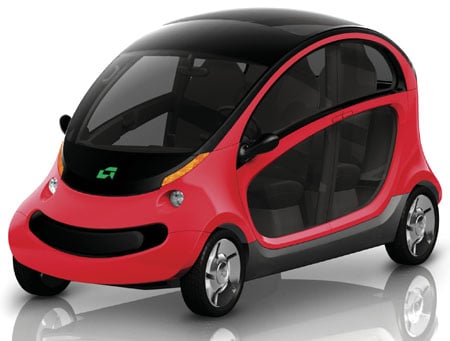 Moon buggy crossed with a GWhizz?
Chrysler's also added "ergonomic, supportive, mesh seating" that apparently improves air circulation inside the car. The seats are made from both recycled and recyclable materials.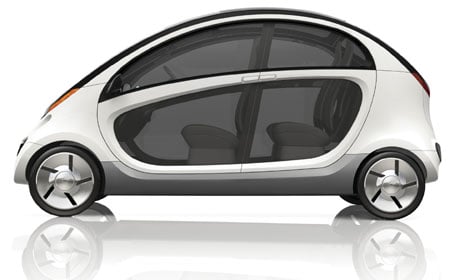 Big windows to let the sunlight in
The car measures 2.85m long, 1.7m high and 1.7m wide. A monstrous 12bhp electric motor gives the Peapod a top speed of 25mph, and it'll will keep on truckin' for about 30 miles on a 6-8 hour charge.

Pick a colour, any colour
Buyers can opt to have a sunroof installed, but given the design of the car's doors there's probably not much need for one.
It's worth noting that – according to a report by website gas2.0 - because the Peapod has a top speed of around 25mph it doesn't require airbags, which means it can't travel on freeways.
Production of the re-designed Peapod is scheduled to begin in 2009. A UK release date or price hasn't been given yet.
Sponsored: How to Process, Wrangle, Analyze and Visualize your Data with Three Complementary Tools