Elgato EyeTV DTT Deluxe 'world's smallest' USB TV tuner
Smaller than a Flash drive
EyeTV borrows heavily from iTunes' look and feel, providing 'smart' and manual playlists in addition to the channel run-down and list of recordings. It'll grab Electronic Programme Guide info from Freeview and from a number of online services, to allow you to schedule recordings.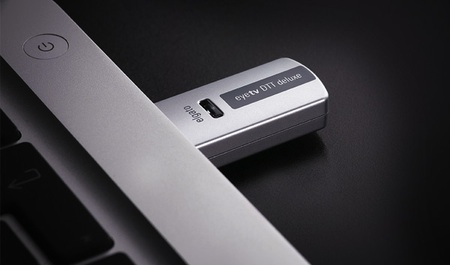 TV on the go
We particularly liked its smart scheduling system: filter programmes listed in the EPG using a huge array of criteria, then set the results to be recorded automatically. This way you'll be able to record the programme Merlin that appears on BBC One, but not repeats on BBC Three or similarly named shows that may pop up on Channel 4, Sky Three, Five or the ITV channels.
It's easy to set up a collection of favourite channels - EyeTV will handily filter out radio or pay-tv channels, but not both at once, alas - and though it took us an age to work out how to re-order and delete channels added to a favourites list, it is possible to do: go to list view rather than the default timeline view.
EyeTV 3 also introduced the ability to stream recordings to other devices on your local network and on the internet. Locally, it's cute sitting in bed watching a recording made on a Mac in another room earlier that day. We tried it on a first-gen iPhone over the cellular network, and it wasn't good - much better trying it on an Asus Eee PC connected over HSDPA 3G.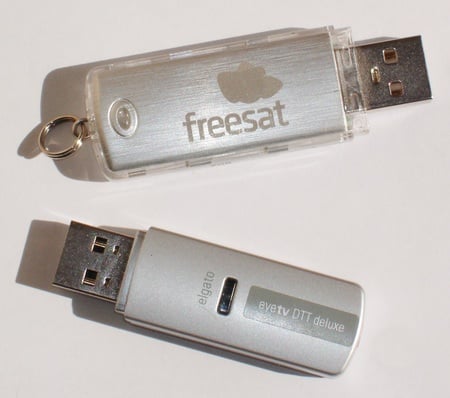 Which is the memory stick and which the tuner?
Verdict
Elgato's EyeTV DTT Deluxe retails for £60/€80, which we reckon is pretty good value given the quality of the software it comes with - EyeTV remains the best Mac DVR app out there by far. If you already have a tuner, Elgato will soon sell you the Deluxe's bendy antenna for £7/€9, so that's a better upgrade unless you're desperate for a tuner that connects directly to your Air. And not just Air owners - any Mac user fed up of dangling their dongle off a USB extender cable will appreciate the Deluxe's tiny dimensions.
Sponsored: What next after Netezza?

Elgato EyeTV DTT Deluxe 'world's smallest' USB TV tuner
A memory stick-sized Mac TV tuner that delivers decent digital TV reception through excellent DVR software.