Elgato EyeTV DTT Deluxe 'world's smallest' USB TV tuner
Smaller than a Flash drive
That said, no tiny aerial is going to match the pick-up a roof-top job can bring, at least until the Freeview signal is boosted considerably. Indeed, even with the ability to adjust the antenna to maximise the signal, sometimes we had no joy at all. Channel 4, picked up clearly on the fourth floor of a North London home, was entirely absent on the third floor, along with all the other channels on its multiplex.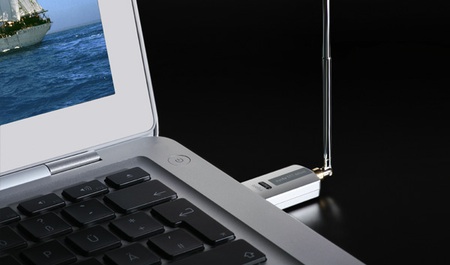 Re-orientate the telescopic antenna for better reception
Should we blame Elgato for that? The Deluxe has no trouble when connected via an adaptor to a fixed roof-top antenna, so there's nothing amiss with the hardware. No, blame Freeview, and its weak signal. Elgato may be blameless, but that doesn't help its product's reception any.
In addition to the two aerials, the Deluxe comes with a Freeview-friendly remote control - there's an infrared port on the top of the tuner. It's Elgato's standard TV-remote-sized unit, but given the emphasis on the Air, which is a traveller's machine, we'd have preferred a smaller, more stowable remote.
Speaking of the Air, which we used to try the Deluxe, it's a laptop that's perhaps not best suited to a heavy duty DVR app like EyeTV 3. Since it is a DVR app, it's constantly buffering what you're watching on to the hard drive, to allow you to pause and rewind. That has the HDD-equipped Air's 4200rpm 1.8in drive spinning flat out, and combined with EyeTV's CPU and GPU overhead, soon had the Air's normally near-silent fans humming away.
Fortunately, you can minimize the drive use by reducing the size of the recording buffer and electing to keep it in memory - not a problem given the Air's 2GB. EyeTV uses 55-60 per cent of the Air's CPU resources.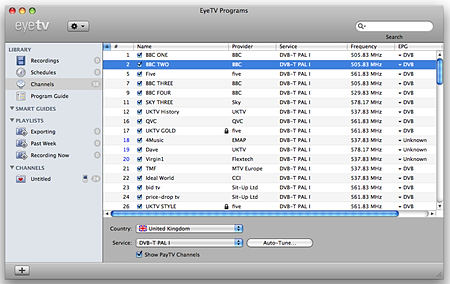 Elgato's EyeTV 3: the best Mac DVR app?
In addition to the DVR stuff, EyeTV provides easy tools to convert recorded programmes into iPod-, iPhone- and- AppleTV-friendly formats, and will back them up to DVD if you have a drive and Roxio's Toast Titannium installed.
Sponsored: Beyond the Data Frontier