Casio massively maximises LCD resolution to 546ppi
More pixels per inch
A large HD telly is the norm these days, but Casio has created a tiny screen that, it claims, crams in the highest ever number of pixels per inch.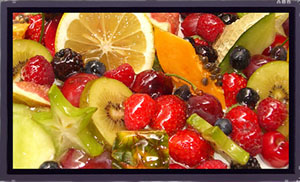 Casio's 2in display has a 960 x 540 resolution
The 2in, 960 x 540 x RGD "quarter HD" LCD panel is capable of rendering 16.7m colours. It uses a Casio-developed technology called amorphous silicon thin-film transistor (a-Si TFT) that squeezes 546 pixels into every inch of screen. Today's LCDs have anywhere between 67 and 130 pixels per inch.
According to Casio, the structure of each pixel in a standard TFT LCD comprises an aperture that serves as the light shutter, and multiple light-intercepting parts — signal lines, scanning lines, storage capacitors and transistors — which control the movement of the liquid crystals at the aperture.
All this gubbins means that shrinking this structure any further - in order to up the pixels-per-inch value - is impossible: there wouldn't be enough space for the light aperture.
Casio's a-Si TFT technology also makes use of "a new structure based on multi-layered wiring for transistors and their surrounds" that ensures there's still enough space for the light aperture.
Although plans to put the screen into consumer gadgets haven't been announced, the company said it'll be suitable for applications that require high-quality still imagery and exceptionally clear video.
Sponsored: Detecting cyber attacks as a small to medium business