HTC Touch Pro smartphone
HTC's best handset yet?
Next to messaging, the other big plus of a slide-out keyboard is browsing, freeing up all that screen real estate to concentrate on rendering pages. In fact, with the Pro, the keyboard is virtually obligatory, since although there's an accelerometer on board which works with games and pics, the screen won't automatically flip into landscape mode when you turn it – unless you unleash the keyboard.
Once you have, of course, it's perfect for entering web addresses and details, and it's easy to move around websites simply by sliding the page in any direction with your finger. You can also zoom in or out with a quick double tap on the screen or by using the circular navpad, which doubles as a scroll wheel when you're in browser mode.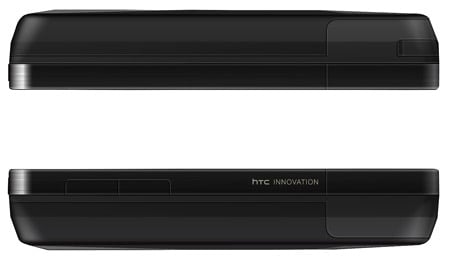 There's only a volume control on the sides
There's a choice of Internet Explorer or Opera 9.5 for your browser - for the record, we found Opera to be faster overall - and you can set it to automatically switch to widescreen mode when you're not using navigation controls. There's also a special YouTube app which worked particularly well, making that maze of a website a joy to stroll around. Videos streamed without any hassle too, whether using a Wi-Fi link - very easy to set up - or the 7.2Mb/s HSDPA 3G connection.
Like the Diamond, the Pro has GPS on board, feeding into Google Maps. We found it easy to get a fix on our north London coordinates and plot a route into town. It's also fun to switch to Google's satellite pics and see exactly where you are in the real world.
The camera is a 3.2-megapixel model with a photo-light flash, but of all the Pro's impressive features it's the most disappointing. The pics themselves are okay in good light if there's not too much movement, but there's too much lag on the screen when you're framing your shot, and with no dedicated shutter button, it takes too long to get into camera mode - a good four seconds after we'd found it on the main menu.