Mars Lander shows rock who's boss
For it's work all day for the sugar in your tay
In case you've been living under a rock on some distant planet, NASA apologizes for the intrusion.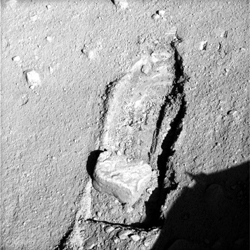 Image courtesy of NASA
The Phoenix Mars Lander has completed the tricky task of nudging aside a Martian rock roughly the size and shape of a VHS tape so that curious Earthling scientists could peer underneath.
The lander's robotic arm moved the rock, called "Headless," about 40 centimeters from its previous location during the mission's 117 Martian day on September 22. Phoenix had spent Saturday enlarging a trench close to Headless to make a suitable place to place the rock.
Scientists hoped to displace Headless while keeping ground disturbance at a minimum in order to study the soil and depth to subsurface ice underneath.
Because the lander receives commands for an entire day during the morning, engineers on Earth had no way to make adjustments during the move if anything began to slip.
Quarry work is also not among the many tasks Phoenix is built to do, making the job one of the more interesting feats of rock rolling since Sisyphus gave it a go.
"The rock ended up exactly where we intended it to," said Matt Robinson, head of Phoenix's robotic arm flight software at NASA's Jet Propulsion Laboratory.
Scientists can now take a gander at the ice table under the rock to get a better idea why the rocks are darker than the material around them. ®