Apple 2G iPod Touch
The world's best music player, net tablet, handheld games console?
This actually makes sense. The larger screen of the iPod Touch was originally intended intended for watching video, but the market for portable video players and video downloads still hasn't really taken off in the same way as the market for music downloads - which, incidentally, has just seen the iTunes Store become the largest single music retailer in the US. This means that there's not yet a critical mass of people willing to pay extra for the large screen of the iPod Touch just so that they can watch videos on it.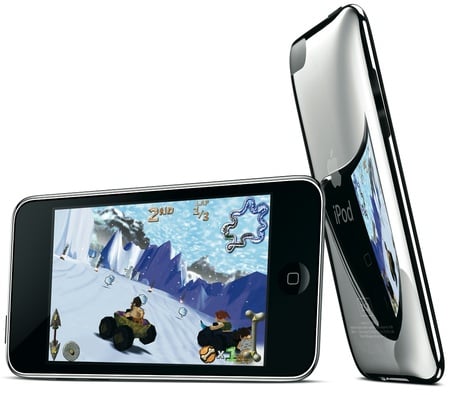 Ready to take on the Nintendo DS and Sony PSP?
On the other hand, Apple suddenly finds itself awash in games. One of the unexpected side effects of the success of the iPhone is that there's been a rush of games released for the iPhone that use its touchscreen and accelerometer as the control system for the game – tilting the screen from side to side to turn a car or to roll a dice, for instance. Games developers that have hardly given a second thought to Apple's Mac computers in the past are now rushing to release games for the iPhone.
But while the iPhone ties you in to hefty monthly payments on the O2 network contract, the iPod Touch can play all those iPhone games – as it has the same touchscreen and accelerometer – without the expensive contract. That leaves you free to download games galore at pocket-money prices, such as Crash Bandicoot, Super Monkey Ball and even some quite sophisticated 3D games such as Elite Racing and Real Football 2009. Apple won't want to go directly head-to-head with the Nintendo DS console or Sony's Playstation Portable – which are both cheaper than even the 8GB iPod Touch – but gaming might be a way to steal a few sales away from rival music players such as Archos or Microsoft's Zune.
Verdict
Whether that's a wise decision remains to be seen, but there's no doubt that the iPod Touch is still a pretty impressive gadget. It's obviously overkill if all you want is a compact and affordable MP3 player – in which case the new iPod Nano or the iPod Shuffle is the one you want. However, the combination of the 3.5in screen, video and music playback, gaming, wireless internet and touchscreen controls make the iPod Touch one of the most powerful and versatile handheld devices currently available.
Sponsored: Detecting cyber attacks as a small to medium business

Apple 2G iPod Touch
A relatively minor upgrade, yet the device's sheer versatility - and new, lower pricing - remains quite remarkable.
Price:
£169/$229 (8GB) £219/$299 (16GB) £289/$399 (32GB) RRP