Apple 2G iPod Touch
The world's best music player, net tablet, handheld games console?
The basic design of the iPod Touch is virtually unchanged. There are some minor modifications to the hardware, but it's certainly not the sort of redesign that the iPod Nano has received. The key feature, of course, is the screen – unchanged at 3.5 inches diagonally - with the accelerometer motion-sensor that allows you to rotate the iPod and use the screen in either widescreen or upright 'portrait' modes.
To be fair, the screen doesn't really need to be changed – the 480 x 320 resolution provides very good image quality for video playback, and we've felt quite comfortable watching full-length films on the iPod Touch on some long train rides. Some reviews have commented that the screen has a pronounced yellow cast to it, but we honestly can't say we noticed this, either on video playback, browsing through photos, or simply looking at the text in the various menu screens.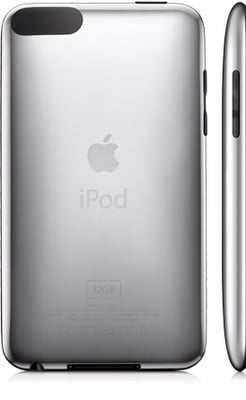 Looks and feels skinnier than it is
The 802.11g Wi-Fi capabilities are unchanged too, though at some point Apple may have to step up to 802.11n if it wants you to start streaming video downloads over the internet. The cheap little Apple earphones are also the same, with their somewhat anaemic audio output, although Apple will be releasing an optional set of 'upgrade' headphones soon, complete with a microphone for the voice-recording feature that is built into all the new iPods. The new earphones will include separate woofers and tweeters for improved sound quality, but they'll cost £55 so you might want to look elsewhere for a cheaper alternative, unless you specifically want the microphone and voice recording option.
The size of the screen and the need to maintain compatibility with existing iPod speaker systems and accessories means that the dimensions of the iPod Touch are pretty much fixed. Even so, Apple has been able to shave about half a millimetre off the thickness of the device this time around. It now measures just 8.5mm at the thickest point, but thanks to the way the back of the case curves, it feels much, much thinner than its predecessor, an illusion enhanced by the shiny chrome-like backplate.
Put it alongside a first-gen iPhone, for instance, and the new Touch seems positive wasp-waisted by comparison.
Sponsored: Quit your addiction to storage