Griffin pitches out-loud music without wires - or speakers
iPhone dock and stereo that doesn't have a speaker or power source
Griffin has created an iPhone docking station that'll have Alexander Graham Bell and Thomas Edison rotating in their graves, because it plays music without speakers and doesn't require electricity.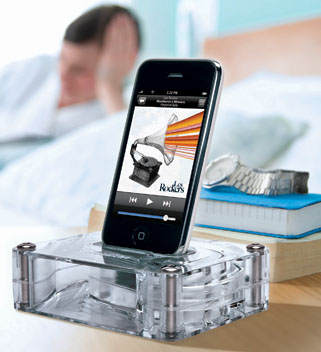 Griffin's AirCurve: no speaker, no batteries, but - somehow - sound
The translucent polycarbonate AirCurve is described as a "breakthrough acoustic amplifier dock". It works by collecting and amplifying sound from the iPhone's own speaker, and then blasting it out across a room with a quality that Griffin claimed is akin to a pair of desktop speakers.
A "coiled waveguide" also does away with the need for any power source.
Concerned the output might be a little on the light side? Griffin reckons the AirCurve's sound amplification is sufficient to get you up in the morning. It's touting the iPhone and accessory as a combo alarm clock.
One drawback: if you want to charge your iPhone when it's docked, then you'll have to connect an additional Griffin Dock Connector Cable – which is sold separately.
The Griffin AirCurve is available now online for $20 (£9/€12).