Retailer dangles earring headphones
Clip-on cans
If you wear the same tatty earrings day-in day-out, then perhaps now's the time to change them. Because Thanko's launched a range of lug-wear inspired headphones.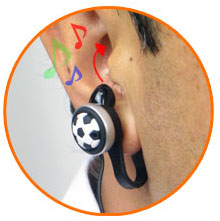 Thanko's cans clip onto your earlobe
The quirky Japanese retailer's cans simply clip onto your earlobe and blast music into your eardrum from a small speaker on either side.

What's your style?
One great design feature is that the covers over each headphone are available in a selection of stylish covers. For example, one style will look like you've got a pair of tiny footballs hanging from your earlobes, while the skull and crossbones design is best left to Metallica fans.
The headphones come with a 1.3m long cable and 3.5mm jack for connection into your MP3 player. A second design's also available with a microphone built into the cord, allowing you to make hands-free mobile phone calls.
Thanko's wacky cans are available online now for ¥1980 (£10/$19/€12)