BenQ W500 projector
There's more to image quality than a massive pixel-count
Uncalibrated the W500 didn't produce colour quite as measurably accurate as the Samsung SP400B, but overall the subjective image quality was considerably better. Everything appeared much, much more realistic on the W500 - Skin tones in particular looked more natural and alive, with a subtlety few projectors can match. Movies are engaging and film-like.
The ace up the W500's sleeve is the HQV (Hollywood Quality Video) image processor from Silicon Optix. Regardless of your opinion on the quality of video emanating from Hollywood you'll find the HQV chip enables the projector to deliver excellent-looking results whether you're up-scaling from standard definition DVD content or scaling down from interlaced 1080i HDTV output. All of our test clips looked smooth and natural with minimal digital noise.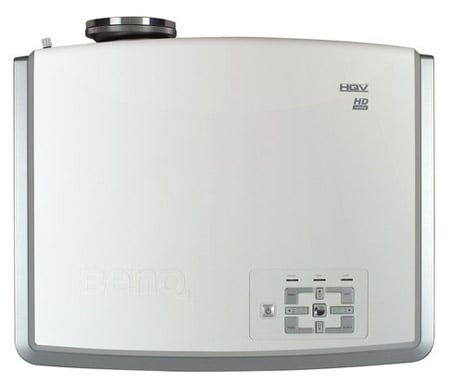 The ace up the W500's sleeve is the HQV (Hollywood Quality Video) image processor
When in its 'normal' mode, the W500 is audibly quite noisy at 32dB– however, switch to eco and things pipe down to a more acceptable 28dB without a huge decrease in brightness. However the W500 isn't particularly bright to start with, so you'll need a room where you can control the light levels if you want to use the projector to its best effect during the day.
Some setup is required to get the best picture, especially when it comes to black level and shadow detail, which can appear a little washed out if not managed carefully. Its zoom range of 1.2:1 isn't very wide either, limiting your options when it comes to positioning the projector for any give screen size. As with any 720p projector you won't want to be sitting too close to the screen if you want to avoid noticeable pixilation, but if you're about two screen widths away you should be fine.
Verdict
If you do a lot of your viewing in the daytime and you can't darken your room, then you may want to consider a brighter projector, such as Panasonic's 2000-lumen PT-AX200E. However, if the W500 fits well with your room and viewing conditions you'll find it offers good image quality from any source and is easy to use. Best of all it's currently available online for only £578 with an Xbox 360 and five games thrown in. A replacement lamp will cost you £189 and will need changing after around 2000 hours in standard mode or 3000 if you stick to the economy setting, making the W500 comparatively cheap to run.

BenQ W500 projector
With all the hype surrounding HD you may scoff at 720p, but there's more to image quality than a massive pixel-count and the W500 still ensures your picture looks great